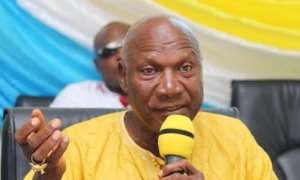 There could be that many times the word 'silent' appears in the 1992 Constitution of the motherland. I try to read; and I have read many parts of it. When a dispute arose as to whether the commander who issued the command that people should vote when some said he shouldn't have, I decided to read that part. At the time, I hadn't read 'silent' anywhere where voting in lawmaking is prescribed; and after, yet to read 'silent.'
This person had been going on and on, on television, about 'members present.' My years of experience with all kinds of group voting kept prompting me that 'present' always goes along with 'and voting.' The man kept insisting on a quorum being in existent to confirm a vote to 'reject' a budget as legitimate.
Isn't that what they have been doing all their lives; manufacturing legitimacy where there had been none? Through the 20 years or so they, the congress people, messed up the motherland, they kept falsely posing what was clearly a military government as not one. They always claim legitimacy where there's none.
Article 104(1) of the 1992 Constitution of the Republic of Ghana reads: 'Except as otherwise provided in this Constitution, matters in Parliament shall be determined by the votes of the majority of members present and voting; with at least half of all the members of Parliament present' (p. 79). Budget is not just a matter but a very serious one.
Loaded words many times over, it looks. A panel member on the television kept questioning the ingenuity of parliament for not addressing the issue of an odd number house when there's no half human being. Without citing anything the rest of us non-members could have read for education, the congress defender kept saying parliament has agreed to make half a human being as one whole human being.
Chief Richard Akinjide again! That's what I told myself. In neighbouring Niger area motherland, he was the lawyer for Shagari whose election as president was in contention in court. A federal election stalemate had developed when Shagari won clear majority in 12 states and needed one more to meet a required two-thirds majority win proviso which meant a win of a 13th state.
Chief Akinjide managed to convince a panel of election petition adjudicators that 'two-thirds of 19 states was 12 two-thirds, and not 13.' Shagari had won one quarter of two-thirds of the vote in the 13th state and not a quarter of the total number of votes in that state that many thought should be the case. That is all about 'half' in our Constitution as relates to a claim of a budget rejected because there was a half.
Then there is 'otherwise.' That is a big test for me because I have not read the Constitution specifically in search of an 'otherwise' which relates to, and could negate all what I have been saying about the 'half of present and voting.' Maybe, it exists somewhere. If it does exist, perhaps those who have been accused of not reading may want to read this time to authenticate what to some of us is a dubious 'rejection' of a budget.
That brings me to 'silent,' as compares with 'present and voting.' Clearly, the argument is that there was one member on the floor, who, in the words of the judge 'remained silent.' Since he was silent, his voice could not have been counted as a vote in a voice vote. To me, there is a difference between present during voting and present and voting. Silent during a voice vote is not consent. And no fair lawmaking will voice-vote to reject an important issue such as a budget.
One of the television panelists actually justified the 'silent and voting' because the voting decision maker was acting based on someone having called for a division. Please, we the 'don't know' compatriots need some education to expose the liars in lawmaking. One wonders how many times people have been silent and were counted as having voted; and, indeed, whether it was by that counting that a phantom STX loan was approved.
Moreover, 'present and voting' neither assumes voting because present nor mandates voting when present. It seems innocuous then, that anyone, any true referee for that matter, will decide 'a member was sitting there' as the member sitting voted because he was sitting there. He had not said the member sitting there had opened his mouth to voice vote. Neither did he say that member sitting there had raised his hand to indicate a yes, no, or abstain because he had lost his voice.
More confusion in the application of terms. I'm still struggling for the practical meanings of house, chamber, gallery and floor. I had assumed the house includes everything. Chamber I thought is a combination of floor and gallery. Gallery is for guests and floor is for members only, although officials/clerks are allowed on it. Members of the executive or judiciary may also be allowed on the floor with permission.
Someone seems to have confused floor as chamber by excluding gallery from the chamber. When you assemble lawmakers in a national assembly, people whose careers, were dining hall prefects, I suppose that's what you get.
Essentially, the evidence points to a hasty, too fast to reach what was not there, decision of 'present and voting.' It's total betrayal of my compatriots' trust and dereliction of duty at that high level of being a number three, who masquerades as number two, and wishes badly he was number one.
By Kwasi Ansu-Kyeremeh