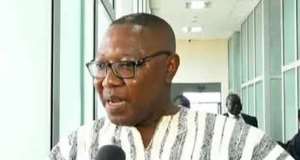 Builsa South MP Dr. Clement Abasinaab Apaak
The Member of Parliament for Builsa South Constituency of the Upper East, Dr. Clement Abasinaab Apaak, has slammed President Akufo-Addo to stop chattering private jets in order to save money to address the challenges of the Free Senior High School (SHS) policy.
The flagship programme of the ruling New Patriotic Party (NPP) in the last few years has had its challenges including lack of infrastructure leading to overcrowding in some schools and what has been often tagged by many as an erratic academic calendar.
Speaking on the floor of Parliament on Thursday, November 25, 2021, Clement Apaak has hit hard at President Akufo-Addo and his government.
According to the Builsa South MP, the challenges of the free SHS programme can be addressed if only travelling in luxurious jets will be stopped.
He argues that the engagement in luxurious travel is taking over the free senior high school policy and worsening its challenges in the process.
In a recommendation, Clement Apaak said, "Stop granting waivers, ensure that revenues at the ports are collected, prevent under-invoicing, prevent corruption, stop chattering private jets and you can save enough money to address the challenges [of free SHS]."
On the debate of the 2022 Budget Statement and Economic Policy proposal of the government, the MP said the allocations made to education when compared to other sectors is worrying.
"Have you noticed that in this year budget allocation just about 2.2 billion has been assigned to the flagship Programme [the free SHS]. Compare that to the office of government machinery, the presidency, it is 3.1 [billion]," Clement Apaak told parliament while adding, "So where is the priority?".
The MP who describes the current situation of the education system as a caricature wants the government to make the necessary investment in the sector to turn things around.