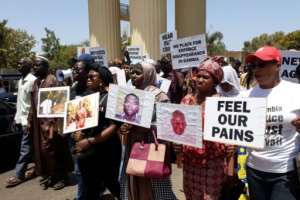 As the Gambian Truth, Reconciliation and Reparations Commission (TRRC) today submits its final report to President Adama Barrow, Amnesty International's West Africa Researcher Michèle Eken said:
"The Commission's report must give way to an unequivocal commitment from the Gambian authorities that justice and reparations will finally be delivered to the victims of decades of human rights violations under President Yahya Jammeh's regime.
"For more than 20 years, Gambians who fell foul of Jammeh's regime were tortured, extrajudicially executed, and arbitrarily held for extended periods. Human rights violations including enforced disappearances, sexual and gender based-violence and attacks on the freedoms of expression and peaceful assembly were rampant.
"Now that the TRRC has submitted its recommendations, the government can bring to light the truth about this dark period in the country's history and ensure that the victims can receive reparations for what they suffered.
"Perpetrators, some of whom are still in the security apparatus should be brought to court and authorities must ensure that these state-sponsored human rights violations are never repeated."