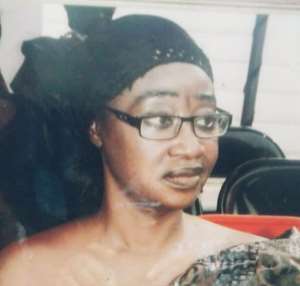 "Tofeakwa", is a lamentation: Dear God, do not let a coup d'état be in Ghana's future in a historic "Ghana -Guinea -Mali" alliance in reverse order of constitutional distortion!
The Auditor General's recent report shows excessive corruption thriving in the thieving heartland of Ghana in an overpowering manner. This is the sad context of the non-chalànt Mr. President, sending signals that show TACIT as well as ACTIVE approval of the loud selfish corrupt curriculum of developmental destruction, in which a seeming rudderless country is wallowing in a "yentie obia", word to the wise is NOT enough conundrum. As illustrated by the potent CDD survey, a sample majority, have lost faith in the President's corruption fighting capability.
Fellow Ghanaians, the proverbial red alert is that instead of providing exemplary leadership in the fight against systemic corruption, including in the capital intensive mining & oil and gas resource sectors, H.E. Akufo Addo's shadowy lip-service dancing with the corruption menace, in an increasingly insecure, tense and expensive Ghana, where mass disappointment is on auto pilot with anger, and could lead to an implosion is best illustrated by his "Agyapa" deal corruption indulgence, which requires pensive analysis.
If Mr. President were serious about fighting corruption, he would rein-in the obvious and obnoxious corruption tentacles clawing all over the GNPC / Akers syndication intended to strangulate Ghana. It is a "mean deal" which seeks to steal an easy $1bn from struggling Ghana with a Presidency stamp of approval. It also does not deal effectively with the threat of Renewables. It has absolutely no redeeming value as currently structured.
The focus will be on Agyapa because it is pivotal in defining the President's ACTIVE corruption indulgence with a ripple and enabling effect. Fellow citizens, once upon a time in the H.E Akufo Addo kingdom, there was discord, and the former Attorney General, Gloria Akuffo, looked Truth in the eye and said humbly but firmly: as for this "sakawa" Agyapa deal that is "illegal & unconscionable", "I no go sit down make them cheat Ghana every day, daabida".
Has she not been axed from the kith and kin governance and replaced by Mr. Godfred Odame? Hopefully Mr. Odame will not play "chacha", the draughts game known as "damè" in the same manner the "Nti -amoah "aka "Nti did not help" committee played hooky with the :"Oh hail the Kingly wives as we ache, Oyerepa income appendage saga
Yes, As regards Agyapa, Ghana was dished disillusionment with a foreign owned, locally manufactured "Agyabone" ie. bad father mineral governance corrupt deal, window- dressed with a good father - "Agyapa", covering, with scraps for local consumption when it cannot heal our hunger, but rather tip the scales of socio- economic justice in a dubious and wrong western direction.
Significantly, What President Akufo Addo attempted to do with then Special Prosecutor, "SP" Martin Amidu's Agyapa Report after the assessment, is tantamount to a corrupt Judge tampering with the evidence in favour of an accused person.
How could an "Incorrigible" sorry incorruptible President, Akufo Addo seek to corrupt Martin Immovable Alamisi Amidu's assessment report on Agyapa, when it was submitted to him by seeking to insert a surreptitious 13 -page Ken Ofori Attah text to pollute and dilute the review conclusions?
*Why could the Finance Minister, Ken ofori Attah, not openly provide his 13 -page premature offensive-defensive text, during the indicated full blown corruption investigation that was to follow the assessment after his earlier visit to the SP was rebuffed? What happened to corruption governance transparency?
Why oh Why? H.E.Akufo Addo, "Nana Oh Nana, wo a yenim wo firi tete" why would you, who from your earlier political activism, was part of the defense team in 1993, when the late Columnist, Kwabena Mensah Bonsu (RIP) called Justice Abban a liar and accused him of falsehood and political chicanery for altering "Page 28" of his judgement in the case of NPP v Attorney General, do likewise? This case resulted in the infamous "Truth is not a defense to contempt" Supreme court decision, which sent Mensa- Bonsu to jail for telling the truth! Incidentally, the judge had misquoted Dr. K.A. Busia and decided to give his error a secret fix, which led to the Mensa Bonsu confrontation.
In principle, Mr. President's attempted insertion of a 13-page pre-emptive deniability by Ken Ofori Attah into Martin Amidu's Agyapa corruption assessment is not dissimilar to the Justice Abban alteration which H.E. Nana Akufo Addo opposed as defense counsel in his heyday when he was hailed.
The covert attempted insertion by the President is also akin to aiding and abetting or being an accessory after the fact to obscure, hide or bury preliminary corruption findings which is a criminal offense for which the permission and connivance of the finder of fact, Martin Amidu was being sought after he had submitted his conclusions to subvert the conclusions against national interest.
• In plain words the President sought to corrupt Martin Amidu who he had appointed as Special Prosecutor to fight corruption!
Rather than be Corrupted in aiding the President to do a Corruption Cover-Up against his given mandate, the avowed corruption fighter, and renowned citizen vigilante resigned in dignity after which the Presidency sought to impugn his competence. Clearly, President Akufo Addo gave Martin Amidu a job as Special Prosecutor, the idealistic Amidu was not supposed to do!
• Let me humbly ask, beyond corruption cover-up, is it Patriotic for a President to be so Pathetic in an attempt to launder, vacuum- clean, or white- wash a corrupt deal that is against the financial interest of the nation of which he is commander in chief? In a proper democratic jurisdiction, would this not have been an activated impeachment issue which was rather rubber stamped in Parliament?
It is as though Mr. President had a political death wish and a Phd in "corruptionocracy" to so throw caution to the winds in such an act of desperation, to cover up as an errand Guy for his Finance Minister, on the quiet; causing Martin "citizen vigilante" Amidu's resignation with the "mother serpent of corruption" battle cry finalè, which has indelibly tainted President Akufo Addo's incorruptible tag and legacy.
Nothing whatsoever, about Martin Amidu's competence or lack thereof in operationalizing the Special Prosecutor offices, can erase the fact of a swift Presidential attempt to filter out and infiltrate the Agyapa deal corruption indices discovered and laid bare.
So we ask with great interest, does the President owe a higher loyalty duty to Ken Ofori attah than to Ghana? Let us recall that as Attorney General Akufo Addo, he refused to prosecute Ken Ofori Attah on Obotan case when the head of EOCO then Serious Fraud office presented a dossier to him in 2002. So yes, the Cover- Up "Agoro yi nso firi tete". ie.it is an ancient game.
In the Agyapa saga the President was thus acting true to his "katawodieso" ie. Cover up your own dirt character. Besides, what personal vested or vicarious interest did the President have in Agyapa to act so precariously?
The disabling of Gloria "fiesty" Akufo after the Agyapa dilemma, also brings to mind the former Auditor General, Daniel the "indefatigable" Domelevo, whose battle for Ghana's soul to relieve her from insatiable throes of corruption was put on the altar of H.E. Akufo Addo's Presidential crucifixion. Has he also not been axed on a 60-year, flimsy age pretext, even though the President has recently appointed a 77yr old retiree to head EOCO in inconsistency?
• The resulting question is: Does an incorruptible country loving, God fearing President, fight and defeat corruption fighters willly nilly, to set our teeth on edge? Is this what an incorruptible President does for piety or applause to faithful national servants, to demonstrate how he is fighting corruption?
Indeed, if Mr President were not inviting and placating systemic corruption, including the BOST oil resale misdeal which was covered-up under a national security blanket for example, he would have "fired" the BOST boss as well as summarily dismissed his Health Minister, illogic Kwaku Agyeman Manu, who under cover of darkness, without due process purchased covid-19 sputnik vaccines at twice the price without any sanctions, among others. This admittedly unthinking Act with corrupt indices written all over it, which the Ghana President finds laughable as though he smuggled a secret Presidential illicit veto over Parliamentary approval into the constitution, to justify ineptitude and nullify due process, is a mind boggling instructive bad omen.
Certainly, the brain behind the "Agyapa" minerals disorder, Finance Minister Ken Ofori Attah, would also not have been spared, and entrenched. why oh why was Ken Ofori Attah re-appointed, regardless of the secretly deceptive "African tiger fund" colosus striding over Ghana's finances with Kenbonds/ Agyapa / PDS/ etc and the payment of Sputnik Vaccine purchase reeking of corruption which has been reversed without repercussion?
OTHER MATTERS ARISING:
The controversial $10k? brown envelope for anticipated favours to a would-be President as we were told, still weigh heavily on our minds without clarity?
Then came the proclamation of Mr. President being in the deep pockets of Kwesi Nyantakyi, which assertion had a disclaimer quickly issued with the assistance of National security. I plead with a nervous native laugh, "Mepawokyewo se", I laugh in akwapim twi!
How come Mr. "prying eyes" Anas Aremeyaw Anas & associates with NSC macho honchos, did not set up the President with fake deep pocketed Arabs offering $$$$ as was done to Mr. Nyantakyi for us all to witness and clap heartily for our President's Incorruptibility as he rejects $5m, the bait sum suggested for all to see. They rather pre- played the beleagured video for the President to deny the allegation. How chummy! Ps: what is the status of the Kwesi Nyantakyi corruption and fraud case the President referred to the CID? Did it not languish for a year for failure to prosecute until it was thrown out of court and refiled?
In Conclusion, How could a reflective Attorney General Gloria Akufo looking out effectively for the public purse which the President promised to protect which is now being dissipated in leased luxury aircrafts for Presidential joyrides, be so deflected, whereas an Osafo Marfo who jointly cooked the Agyapa indigestion is reconfigured at the Presidency in a merry go round that is uncanny.
There is no doubt, a culture of silence that seeks to dislodge or destroy those who stand up for Ghana as has happened to Gloria Akuffo, Martin Amidu, Daniel Domelevo, and others in a Ghana that devours its best self while "hat-tricks" that have painted our nation red with debt and convoluted corruption deals are held in high esteem?
It is apparent, that contrary to the President fighting corruption, Agyapa shows him as an active participant in a cover -up and his inability to deal with his chosen official corruption cabals also shows his indulgence of corruption.
Shamefully Even the Special prosecutor offices he promised and set up with fanfare has been shown through the Martin Amidu and Agyapa debacle to be integral to throwing a dust facãde, in the eyes of a woeful corupt Ghana, where upscale and free for all corruption is not really confronted but placated.
Corruption is a crucial factor fighting national development, so that if President Akufo Addo is demonstrably indulging the menace rather than fighting it, then it is the the President who is acting in opposition to his mandate and fighting national interest not the embattled CSO's calling for scrutiny on looting of national coffers on GNPC/Akers / myriad dubious deals, notwithstanding issues within the CSO space.
Ghana does need an overhaul, inclusive inculcation of patriotism and abhorrence of corruption that should emanate from an exemplary Presidency as foundational to overall development, BUT as is apparent, this is missing in action. Where will it all end is the worrying question?
Email: [email protected] yahoo.com