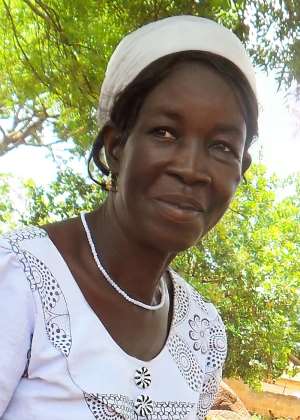 Mrs. Suaka Salamatu Masabiar
Mrs. Suaka Salamatu Masabiar
Ante Sala's entrepreneurial skills did not end with her signature pito enterprise. She ventured into the sale of waakye, banku, tubani and retired finally with a table top provision shop just to provide for her children – smacks of a typical enterprising Ghanaian Mother.
It is said, that a mother's heart is the child's classroom. We thank God for all that our mum, Mrs Suaka – Ante Sala has taught us through the years. Our Mum is a portrait of a Godly Mother and we are proud to have had her.
Ante Sala, we, your children remember, that growing up was not easy; we remember we saw you sweat with Chamba Suaka to keep us in school. We remember we saw you endure difficulties to offer us the best of formal education even though you did not have formal education. We, your children assure you, that you succeeded. You offered us your best, we had your best and we are living your best.
Ante Sala, every letter, every word, every sentence and every paragraph in this tribute as properly so constructed is wholly dedicated to you and your husband – Chamba Suaka whom you have left behind and he is right here with us. This is what both of you stood for. This is what you – Ante Sala stood for. This is what you fought for. This is what you sacrificed your entire life for and this is what you bequeathed us.
This beautiful rendition of a tribute is written by us in its entity – your children. That is the legacy you bequeathed us. – E-d-u-c-a-t-i-o-n!! We are proud of you Mum.
The virtue of endurance you taught us is still in us. Growing up, we saw you endure in your sale of pito to cater for us, we saw you endure in your small acre rice farm to cater for us, we saw you endure in cutting fire wood for sale to cater for us, we saw you endure in buying and selling shear nut to cater for us, we saw you endure in buying and selling groundnut to cater for us, we saw you endure in loyally supporting our Dad – Chamber Suaka in his cashew farm to cater for us, Ante Sala, we – saw – you- endure…………
Another important virtue you taught us is the essence of relationship with God. You taught us to pray before bird and out of bird. You taught us to pray before dinner, and we remember the short prayer you taught us to always say before dinner – "Chamba Yennu, tient albaraka jiet na paak, Yisa masia sanni, Amen". This is what Ante Sala taught all of us. She taught us this prayer when we were growing up and we are teaching our children same.
Mum, your commitment and loyalty to Dad in your life time was phenomenal. We did not understand this with adequate clarity when we were younger, but now that we are grown ups and married to our wives and husbands and practicing commitment and loyalty in our marriages, we understand it better and we recognize that you taught us same.
We miss the exciting moments we had together anytime you visited us at our places of residence. Your grand children are young and they disagree when we tell them you are no more. They tell us you should come back to Sunyani and have fun with them.
Despite the usual inevitable health complications that come with old age, Ante Sala was not too well in her last 4 – 5 years but had been thriving until her passing to eternity on 19th April 2021 at Nakpanduri Community Hospital at 10pm; Ante Sala was a mother of ten; Four late, Six alive with eleven grand children.
Ante Sala, your husband, your children and your grand children are proud of you.
We are grateful to God we came to this world through you. We are proud to have had you as our mother. You have no replacement Mum. We knew we could not have you for eternity but we thought we could have you a bit longer with us.
Anywhere you are Mum, accept the best of the wishes and love of the Suaka Family.
Till we meet again, sleep well!!
Fare – Thee – Well……..
Yennu njia nan tannan………..