The issue of 24 hours a day, seven days a week adequate electricity supply to all the villages, towns and cities in Nigeria has remained a matter of concern to many well meaning Nigerians ever since the country acquired self rule on 1 October 1960. The huge sums of money allocated to this sector have never been appropriately utilized because of the cancerous official corruption that has continued to eat deeply into the fabric of the Nigerian society, especially among the civil service and government agencies saddled with the responsibility of projects management.
Although there have been considerable improvements in many areas of development in these 61 years of self rule, particularly in the area of the nation's GDP growth rate, the epileptic supply of electricity in the country has been a major cause for worry to many informed Nigerians and foreign investors.
In advanced democracies, electricity supply is totally contracted out to private business enterprises which source for energy and supply consumers. These companies pay taxes on their proceeds to the government, and they are liable to be sued by their customers in case of a breach of contract in the supply of regular electricity. And if that is the pattern in countries like the UK and the US among other developed economies, why are Nigerian politicians finding it so difficult to adopt the style others have already explored to put their countries on top of the world map?
In Britain, for example, there are currently around 60 energy suppliers that provide gas and electricity to homes and businesses across the country. According to figures from Ofgem, the energy regulator, the number of suppliers peaked between March and June 2018, when there were more than 70 energy companies supplying domestic power. Since then, a number of the energy companies have experienced financial failure or even ruin due to a range of factors which include the energy price cap and rising wholesale energy prices. But even at that, there is still a wide variety of energy companies for residents to choose from, each with its own unique selling points, tariffs and price ranges.
Britain's largest energy suppliers are known collectively as the 'Big Six', and between them they supply gas and electricity to over 50 million homes and businesses across the UK. The Big Six are also the UK's longest running private energy suppliers, having all been formed in the 1990s soon after the passage of the 1989 Electricity Act which paved the way for the privatization of the energy sector.
Among the Big Six is the British Gas, owned by parent company Centrica. British Gas supplies 15 million homes in the UK. EDF Energy is another of the Big Six. It is a French State-owned company that supplies 5.6 million homes in the UK and the largest producer of electricity in the UK. There is E.ON, the world's largest investor-owned utility service. E.ON serves over 3.8 million customers and it is the UK market leader in producing combined heat and power. There is Npower, owned by the German company RWE. Npower supplies gas and electricity to 6.5 million customers in the UK. There is Scottish Power, owned by Spanish parent company Iberdrola. One of the smaller of the Big Six energy companies, Scottish Power serves 5.3 million customers in the UK. There is SSE, trading under different names which include SSE, SWALEC and Scottish Hydro depending on the region. SSE is the second largest Big Six supplier in the UK, serving 9.1 million customers.
The point, however, is that energy supply in the UK is not all about the Big Six. A growing number of smaller independent suppliers had been exploring the UK market since 1997, with the aim of providing real competition for the major providers and creating a fairer market for consumers in the process. For typical British families, there is a greater choice now than ever before to ensure they shop around for the best deal on gas and electricity. And sometimes, they discover that the less well-known providers not only offer the best gas and electricity rates, but also better customer care and after-sales service.
The other energy suppliers include Angelic Energy owned by Islington Local Government Council. This is a non-profit energy provider that offers residents an alternative to the Big Six with easy-to-understand terms and pricing with no complicated tariffs. There is the Entice Energy which offers low cost gas to homes all over the UK. Their service boasts of a state of the art online account service. Each customer has access to an account manager. There is Extra Energy, the sister company of the German company ExtraEnergie and is considered a main challenger to the Big Six. Their aim is to offer low prices with excellent service standards.
There is Fairerpower which provides competitive energy prices to residents of Cheshire East. It is managed by Cheshire East Council, which partners with OVO. Payments are usually collected by OVO on behalf of Fairerpower. There is the First Utility, now Shell Energy. First Utility is the biggest supplier outside of the Big Six. As a supplier they campaigned for positive changes, including faster switching. There is Fischer Energy which puts customers first to value fairness, honesty and loyalty. They offer just one tariff, its 'One Fair Tariff' to deliver, one competitive price for all. This is a Family-run company that delivers to customers and not shareholders.
There is the Flow Energy, now part of Octopus Energy. Their UK-based customer service team can offer support every step of the way as pioneers of the electricity-generating Flow Boiler. There is the Future Energy which boasts of low prices as well as transparent billing. Based in Newcastle, they predominantly supply the North East of England and offer both gas and electricity products as part of their service.
GB Energy is another. Now part of Octopus Energy, they provide gas and electricity to over 140,000 homes across the UK. Their ambition is to offer fair, competitive, no gimmicks prices to all customers. GnERGY is another new breed of community suppliers. They aim to offer gas and electricity in an open and honest way. They boast of a multi lingual UK-based call center. Go Effortless Energy is another one that is built from the ground-up using customer perspective. They offer one honest simple and fair tariff to all their customers. They steer clear of misleading loyalty bonuses and cash-back schemes.
There is Good Energy founded in 1999 as the first supplier to have a 100% renewable energy fuel mix. Good Energy offers renewable energy products. There is Avro Energy which began trading in 2015. They look to provide simple and competitive prices of energy products. Avro Energy is based in Nuneaton, Warwickshire. There is Better Energy which began supplying energy to customers in 2011 and currently only offers gas to customers. There is the Boost Power, the new name for OVO 'pay-as-you-go' energy which aims to improve the prepayment energy market. Energy use can be monitored and meters topped up using the Boost app.
There is the Breeze Energy which aims to help people become more energy efficient. They offer tips to help people use less energy and save money. There is the Brighter World Energy which began trading in 2016. For each 2,000 customers that switch over to them, they could build a sustainable solar powered micro grid in a village in Africa. They work in partnership with not-for-profit supplier Robin Hood Energy. There is Bristol Energy, committed to local development and reinvestment. They pride themselves on a transparent service. Bristol Energy supplies to around 10,000 customers in Britain.
There is Bulb Energy which specializes in renewable energy products. They look to take on the Big Six by empowering their customers. There is Affect Energy, a team of ex-employees who used to work for one of the Big Six. They have over 50-years' combined experience in the energy market. Affect energy pride themselves on their level of customer service. It is now owned by Octopus Energy. There is Outfox the Market Energy which offers a customer-led energy alternative. Energy is bought at wholesale from 100% renewable sources and gas and electricity are available with no contract tie-ins.
There is So Energy, set up to restore customer trust in suppliers. Committed to delivering low prices for their customers, a simplistic approach and the latest technology give So Energy a competitive edge. There is the Co-op Energy. This is the only UK supplier to be owned by their customers. Coop Energy has been operating since 2010 and boasts of a fair and transparent service. There is Daligas which only offers gas to their customers. Daligas helps SMEs with a simplified pricing structure and boasts of its transparent and trustworthy service. There is Ebico Energy which was founded in 2008 and is one of the few suppliers who offer zero standing charge and competitive pay-as-you-go tariffs.
There is the Economy 7 Energy which offers a cheaper rate during seven night-time hours. Special Economy 7 meters show customers' day rate and discounted rate. There is Economy Energy which fights to keep their customer's bills falling. Over 5% of their energy is generated from renewable sources and they boast of a service that has local communities at its heart. There is Ecotricity which is always looking for new ways to invest in green energy sources. Ecotricity regularly features among the top in satisfaction surveys. It is not-for-dividend, which means their customers always come first.
There is E Energy which is a British-owned energy company based in Birmingham. The company aims to keep costs down so customers can pay less. Tariffs are simple and straightforward to help customers choose the best deal. There is Energy SW. This company works alongside OVO to offer improved levels of customer service. They also offer competitive pricing and pre-payment meters for landlords to help residents enjoy savings as well. There is ENGIE Power which looks to push boundaries in low carbon energy solutions. They offer data-led energy products to help customers save money. They serve more than 14,000 customers in both the public and private sectors. And there are many more of private distributors of gas and electricity in the UK.
The involvement of the Nigerian government in the distribution of gas and electricity to households and businesses in the country is definitely one of the major factors that is stalling the industrialization of the country. And that is not doing Nigerian families any good.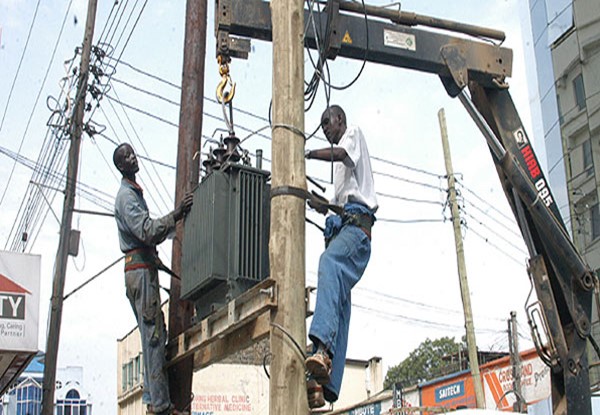 Power Holding Company of Nigeria (PHCN) Staff at work in Nigeria
If the government could contract the supply of electricity and gas to private entrepreneurs as is done in the more advanced democracies, there is a possibility that most villages, towns and cities in the country would have light 24 hours a day, seven days a week. There is a possibility that most Nigerians who presently live abroad and work for the interest of their foreign employers would return to Nigeria to establish their own businesses. Nigeria would become an industrialized country in no time. Employment figures would be boosted. Nigerians would be able to do two or three shift duties, morning afternoon and night. As many people get meaningfully employed, the crime rate would drop. Nigerians would once again become a happy people. But would Nigerian politicians realize that modern politics has moved from politics of power to politics of service delivery? That is the point.
I think it has become imperative for the National Assembly to take a hard look at these facts and do something about the situation their countrymen find themselves in. I suppose the reason they have done nothing is because of their greed and policy of official corruption and possibly because most Nigerians are unaware of how gas and electricity are distributed in other countries like the UK and the USA, countries that practise politics of service delivery as opposed to the politics of power Nigerians practise.
But it is not too late to join the bandwagon. In the UK, the Electricity Act was passed only 32 years ago, in 1989, when Margaret Thatcher was Prime Minister. The act provided for the privatization of electricity supply throughout Great Britain. The act replaced the Central Electricity Generating Board and restructured existing electricity boards in Scotland. As it is with Nigerian government's involvement in the Electricity Supply Industry (NESI) which has industry participants that do not supply electricity and gas to any community in their own right but sit at table like the administrative officers they all are, the Generating Board was seen by the Thatcher administration as 'inflexible, bureaucratic, secretive and largely outside of political control'.
The same goes for the Nigerian industry participants – the Federal Ministry of Power, the Nigerian Electricity Regulatory Commission, the Electricity Generation Companies (GenCos), the Transmission Company of Nigeria (TCN), the Electricity Distribution Companies(DisCos), the Nigerian Bulk Electricity Trading Plc, the Gas Aggregator Company of Nigeria, the Nigerian Electricity Management Service Agency (NEMSA, the Central Electricity. They are inflexible, bureaucratic, secretive and largely outside of political control.
The liberalization and subsequent privatization of the energy markets in the United Kingdom became necessary when government recognized that the electricity industries in Europe and the United States operated more successfully under private ownership. The act also established a licensing procedure and an independent regulator for the industry. It was called the Office of the Electricity Regulator (OFFER) but is now called Office of Gas and Electricity Markets (OFGEM).
Do Nigerian legislators need to be told that with a steady supply of electricity, many small-scale and medium-scale businesses will be reactivated? They will thrive. The economy will be boosted and employment figures will go up. Crime rate will come down if not totally eradicated.
Why have Nigerian politicians decided to keep their countrymen and women in near total darkness? Why have they decided to make their country a failed state? What would it cost government, barring greediness and official corruption, to completely hands off anything about gas and electricity supply and contract them out totally to the private sector? What could possibly be the cost to government?
By Chief Sir Emeka Asinugo, KSC