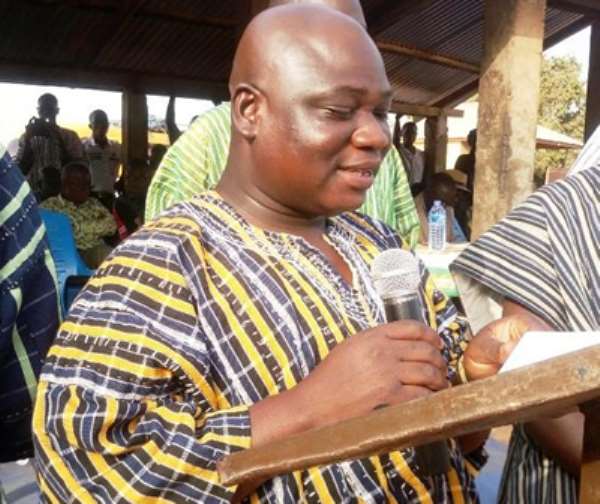 FIRST 100 DAYS ACHIEVEMENTS OF HONOURABLE AMIDU CHINNIA ISSAHAKU, MP of Sissala East and Deputy Minister for Sanitation and Water Resources Designate
Honourable Amidu Chinnia Issahaku was sworn-in on January 7th, 2021 as the MP for the Sissala East constituency. By April 17th, 2021, he has worked to touch all corners of the constituency a way none of his predecessors since 1992 had ever done. Here is a brief timeline of a few of his major achievements:
1. 11th February, 2021: Donated four(4) lorry tyres and GH5000 to the Ghana Education Service, Tumu to facilitate in their movements and supervisions.
2. 22nd February, 2021: Dug and handedover five boreholes in Sakai, Nabulo, Gwosi Lower and Gbenewisi. This was done through his own personal mobilisation and commitments. Sakai had two boreholes whilst the other communities had a borehole each.
3. 24th February, 2021: Went to Kulfuo to see first hand the burning down of the three classroom blocks there. He was accompanied by representatives from NADMO and GES. Plans are in place to ensure the school is fixed to its original state.
4. 26th February, 2021: Met and interacted with heads of departments, agencies and institutions. He also met and interacted with honourable Assembly Members of the Sissala East Municipal Assembly..
5. 1st March, 2021: Donated 100 sewing machines to young women in the constituency as part of his youth and women empowerment programme. He also donated GH2000.00 to some 40 women to be given training in the production of liquid soap, dettol and sanitisers. This makes it 140 women in all.
6. 2nd March, 2021: Met and interacted with the Fulani chief, his sub-chiefs and opinion leaders of the Fulani community. This is the first of this kind in the history of the existence of Fulanis in the entire Sissala land since independence in 1957.
7. 6th April, 2021: Donated 60 pieces of street lights to all the Senior High Schools, Tertiary institutions and the GES municipal office in the Sissala East.
8. 6th April, 2021: Donated fifty (50) snake anti-serum medicine (anti-snake venom) to the Municipal Health Directorate. This is the first time since independence a MP has made such a donation to the health directorate within this period. An unprecedented achievement.
9. 8th April, 2021: Handed over a 3-unit classroom block in Bugubelle. This project was started in November 2020.
These are the major ones. His unprecedented regular attending of social events, his thank you tours and many others are not mentioned. This without any iota of doubt is the best 100 days achievement and sumptuous leadership the Sissala land has produced since 1992. The early morning signs of honourable Amidu Chinnia Issahaku are very positive and if he continues in this tangent, he'll undoubtedly be the greatest MP the Sissala East has produced since it's creation, In sha Allah .
I shall, In sha Allah, be back ....
Fuseini Abdul-Fatawu