Jonathan must not fall into their Trojan horse trap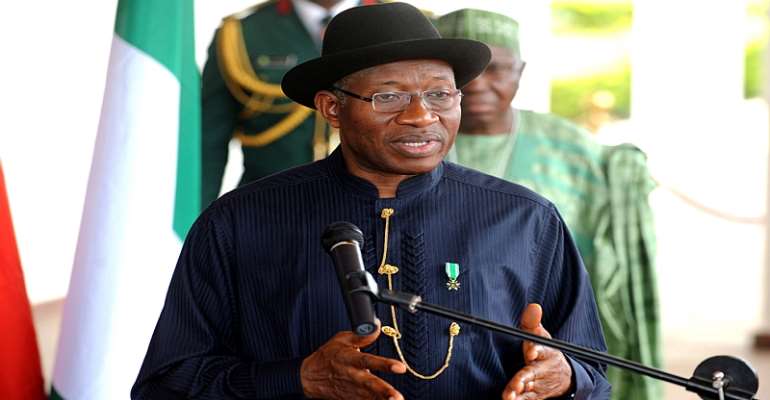 It appears from his recent utterances that Nigeria's former President, Dr. Goodluck Ebele Jonathan is getting ready to jump into the tragic political trap the ruling All Progressives Congress, APC government has been busy setting for him. Jonathan's argument that restructuring Nigeria cannot be done "without love and unifying leaders" certainly raises a lot of political dust which must settle urgently for Nigeria to move forward in its march towards true democracy.
Obviously, there are questions that need expeditious answers in the experiment called Nigeria. What do Nigerians generally understand by restructuring? Why is the federal government unwilling or unable to call for a referendum so that ordinary Nigerians can speak their minds whether or not they still want to remain as one indivisible country and on what terms? What is the government afraid of? Why does the federal government give the impression to the world that it has a capacity to muzzle up the peoples' voices? Why must the non-leaders in Nigeria be treated like slaves who have no voices rather than the masters whose voices are enshrined in the constitution of the land? And what would former President Jonathan possibly mean by "unifying leaders"?
Nigeria had self rule in 1960. I wouldn't say "independence" because actually, no country is independent. On the contrary, all countries are interdependent. So, Nigeria inherited from its colonial master, the type of politics that has come to be known in recent times as "politics of power". This politics of power is the reason Nigerian politicians cannot be "unified". This politics of power is the reason political touts kill each other in the defence of their principals. This politics of power is the reason Nigeria's electricity supply is epileptic. It is the reason for the growing impunity in the land. It is the reason women and girls are repeatedly raped and nothing happens to the perpetrators. It is in direct contrast with modern politics, known as "politics of service delivery". Here, the people articulate their needs and desires and their parliamentary representatives enable them resolves their urgent concerns, whether they have to do with finance, health, education, housing or something else. In the United States of America, the toxic leadership of Donald Trump would represent the politics of power, compared with the leadership of either Barrack Obama or Joe Bidden which represents politics of service delivery. Nigerians are yet to cope with the more advanced countries on this depth of democracy and of course those countries will always watch out and scheme to undo any leader who tries to make their people as happy and confident as they do overseas. But they cannot do so if there are no Nigerian accomplices, no Nigerian saboteurs. Only Nigerians can stop Nigeria from its democratic evolution. That is the unfortunate truth.
Back in those days, we saw and heard Nigerian leaders display their raw nerves in political gatherings, campaign trails and election arenas. Politics at the time was all about power, fame and money. Dr. Nnamdi Azikiwe, Chief Obafemi Awolowo, Sir Ahmadu Bello, Alhaji Tafawa Balewa, Chief Festus Okotie-Ebo, Chief Akintola Williams and a host of the First Republic politicians largely practiced the politics of power.
Nigeria had four regions – Eastern Region, Western Region, Northern Region and Mid-West Region. Each region was autonomous, with its own governor and its own premier. Each region had its own high commissioner in London. And there was one for the federal government making five in all. Each region was in charge of the resources coming from its land and contributed a percentage of its annual budget to the federal coffers.
When the military gate-crashed into the democratic evolution of the country in 1966, they turned Nigeria's colonial heritage upside down, inside-out. First, they created 12 states, then 19, then 30 and 36. All those creations of new states were given the human face and it made Nigerians believe that government was genuinely trying to get governance to the grassroots. But there were hidden agendas. Anyone who has read the history of Sokoto Caliphate and the Borno Empire will be left in no doubt that these warriors of Nigeria's North have a tradition of conquering their neighbours and enslaving them. This mentality of master-servant relationship is perhaps what informs the refusal of the Nigerian government to hold a simple referendum. They would rather hold on to a forced relationship under the guise that to keep Nigeria one is a task that must be accomplished. But is Nigeria truly one? That is the question. Can Nigeria actually be one, given the history and geography of the Sokoto Caliphate and the Borno Empire? Nothing has changed.
And who would "unify" Nigerian leaders when they belong to different parties with different ideologies? Among Nigerians, love for their country will come only when they perceive a certain level of justice in the land which is the ultimate message of democracy – that all men are born equal before the law. Nigerians do not need to unify their leaders. Otherwise they would be heading for a unitary government which is another form of military government. Nigerian democracy has had enough of bruises from military intervention and enough is enough.
When most Nigerians talk of restructuring, they are saying: "Let us go back to the regional arrangement we inherited from Britain." Put in another way, Nigerians could take a cue from Great Britain. England, Scotland, Wales and Ireland were autonomous nations that came together to form Great Britain because they needed to cooperate with each other in terms of trade and military support. Nigeria can do the same, in the name of restructuring. Their leaders can advocate for a Biafra Republic, an Oduduwa Republic, an Arewa Republic and a Middle Belt Republic. Each can have its flag and its national anthem. Each can manage its revenues and infrastructure like roads, education and medical services and still belong to a bigger union called the Federal Republic of Songhai.
I suggest Songhai because the name Nigeria is a foreign name fostered on the country by the wife of Lord Fredrick Luggard, the colonial Governor-General of Nigeria who amalgamated the Southern and Northern protectorates. She suggested the name Nigeria, derived from River Niger in an article that was published in The Times four years after she became the colonial editor of the newspaper and the highest paid woman-journalist of her day. Writing in The Times in 1897 she coined the name 'Nigeria' for the territories administered by the Royal Niger Company. And it has continued ever since to take its toll in the psychology of Nigerian people.
Many African countries saw the need by the time they had self rule and were prepared to change the names their colonial mentors gave them to indigenous African names that had authentic African meanings. But the Nigerian leaders who ushered self rule into the country did not seem to acknowledge the fact that Nigeria was not an African name and therefore, people who bore the name would not be expected to behave like African brothers or even feel at home in Africa. Look at what happened to Nigerians a few months ago in Ghana and in South Africa. All those events had their own stories to narrate.
Most African political leaders saw the problem looming, even before their countries attained self rule, and they prepared for it. Each of them prepared to take on an indigenous name in the belief that even the worst type of self rule was more acceptable to the people than the best type of foreign domination. Upper Volta was a French colony by the time it gained self rule in 1960. But 24 years later, it changed its name to Burkina Faso. The name Burkina Faso, which means "Land of Incorruptible People," was adopted in 1984. Abyssinia rose to international attention as a result of Italy's illegal war in that country from 1935 to 1937. After regaining self rule and helping to found the United Nations in 1945, the country officially changed its name to Ethiopia. The name Abyssinia died a natural death. In 1958 French Dahomey became self-governing and was named the Republic of Dahomey by the time it gained self rule in 1960. In 1975, it was renamed the People's Republic of Benin and in 1991 the Republic of Benin.
Southern Rhodesia was so called from 1898 to 1964. It was named Rhodesia afterwards, but just before the country was granted self rule by Britain in 1980, President Mugabe changed the name to Zimbabwe. Ghana was originally called Gold Coast by Britain because of the large quantity of gold the country had. But on attaining self rule on 6 March 1957, they changed their country's name to Ghana. Bechuanaland was a protectorate established on 31 March 1885 by the United Kingdom in Southern Africa. It changed its name to the Republic of Botswana on 30 September 1966. All these were moves aimed at identifying their African origin.
Nyasaland was once part of the Maravi Empire. The territory was later ruled by the British and was known first as British Central Africa and later as Nyasaland. It became part of the Federation of Rhodesia and Nyasaland. Hastings Kamuzu Banda, Malawi's first President changed the name Nyasaland to Malawi in 1964. With the promulgation of the Luluabourg Constitution on 1 August 1964, the Congo became the Democratic Republic of the Congo. But that name was changed to Zaire on 27 October 1971 by President Mobutu Sese Seko. In celebration of Swaziland's 50th year of self rule in 2018, King Mswati III changed the name of the country to eSwatini. Africa's last absolute monarch marked his country's 50th birthday with a rather unconventional gift: a change of the country's name.
The leaders of French Soudan changed the name to Mali when it attained self rule in 1960. Moçambique was named by the Portuguese. But after the Island attained self rule in 1975, the name was changed to Mozambique. Portuguese West Africa changed its name to Angola on attaining self rule in 1975. The Spanish colonies of Rio Muni and Fernando Po united to become what is today Equatorial Guinea at that country's attainment of self rule in 1968.
Upon making its break with South Africa permanent in 1990, South-West Africa changed its name to Namibia. Northern Rhodesia changed its name to Zambia in 1964, the year the country attained self rule. Again, all this was to identify their countries with Africa. It was just like President Kwame Nkrumah of Ghana had envisioned that self rule for Ghana would be meaningless unless all Africa was extricated from the hegemony of foreign domination.
The Kingdom of Lesotho was known as the protectorate of Basutoland until it gained self rule in 1966. After it attained self rule, it changed its name to Lesotho. Portuguese Guinea changed its name to Guinea Bissau at self rule in 1974. The Republic of Guinea was known by the name French Guinea until its attainment of self rule in 1958. British Somaliland re-united with the Italian colony to form a United Republic of Somalia in 1960.
Djibouti was known as the French Territory of Afar and Issas from the late 1960s to 1977 when it gained self rule and changed its name. Ruanda-Urundi, once jointly ruled as a single mandate under Belgium, broke up into two separate States in 1962. Ruanda became Rwanda and Urundi went on to become Burundi. After its 1964 union with the islands of Zanzibar and Pemba, Tanganyika changed its name to Tanzania. These are all African leaders who saw the need to identify with their African origin. The people of Nigeria deserve an indigenous name, like Songhai Republic, the Republic of Malinke, the Republic of Joliba or Nok Republic – ancient African civilizations that must not be swept under the carpet for any reason whatsoever.
President Jonathan has already expressed the opinion that Nigeria cannot be restructured "without solving issues that polarize us: nepotism, ethnic and religious differences and lack of patriotism". Like every other nation, he emphasizes, Nigeria is a project in progress and should confidently discuss her experiences and fashion out solutions to improve on her performance and the well being of all citizens. We should all do our little best in our little corners to overcome the challenges we face and work hard to reposition our country for a greater and more prosperous tomorrow for our children. This cannot be achieved without deliberate effort to promote national unity and love of country by all our leaders and citizens. We owe ourselves and the coming generations a duty to reduce the bile and embrace one another so that restructuring for a better and greater Nigeria can be meaningful and guarantee the nation's economic development and citizen's welfare.
But, if you ask me: polarization is not even an issue. It is one of the most beautiful things about democracy. In Britain we call it "unity in diversity". Nigerians call it "One Love". Polarization is a good thing if the system is transparent. But when it is not, as in Nigeria's case, it can always become a huge problem. But beyond all that, and judging from the way he appears to be gradually distancing from his stance on restructuring Nigeria, Jonathan must shun the APC Trojan Horse appeal to run for the Presidency under their party by 2023. That invitation is a recipe for the political somersault and tragedy of Jonathan's democratic legacies. Jonathan must not fall into their Trojan horse trap.
Chief Sir Emeka Asinugo, KSC is a London-based journalist, author of 'The Presidential Years from Dr. Jonathan to Gen. Buhari' and Publisher of Imo State Business Link Magazine (Website: www.imostateblm.com)