White House politics in Capitol Hill: The America I didn't know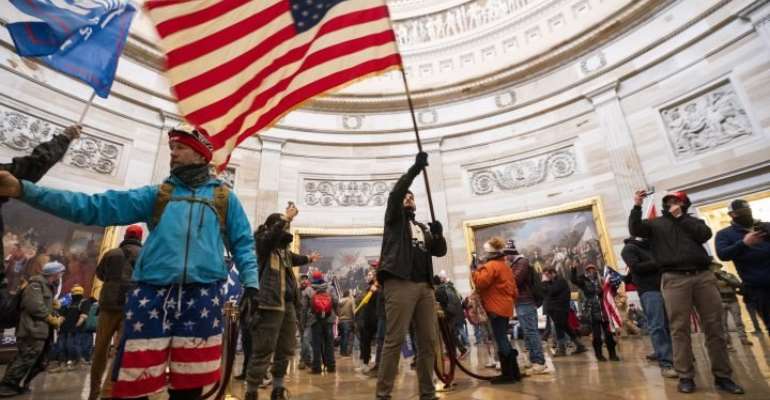 Dear Valued Reader,
Watching the disgusting and sickening images of pro-Trump protesters smashing and battering the side windows of Capitol Hill, the seat and soul of American democracy in Washington DC - which was fueled and induced by Donald Trump's politics of lies, deceit, and complete disregard for the American Constitution - I quickly realised that I knew little about America.
Attending Opoku Ware School as a teenager, I soon discovered that my famous school was the centre of Toefl and GMAT exams that prepared candidates for admissions to the top Ivy Colleges in America. For students from OWASS getting into Harvard, Princeton, Yale, Columbia and the like was our big dream. Many students some of whom are professors, surgeons, and chief executives who eventually found themselves in top American universities working for corporate America are products of OWASS.
It is the opportunities like these that have formed good impressions about America in my mind over the past several years.
However, the gruesome murder of George Floyd in May last year and the subsequent murders of ordinary citizens by American police officers with a sense of impunity which led to Black Lives Matter demonstrations and the cavalier attitude adopted by President Donald Trump in dealing with the issues beat me hollow. All this keeps reminding me that I know next to nothing about America.
My impressive impressions about America suddenly changed when the die-heard Trump supporters stormed the Capitol Hill last week. Their forceful entry into the heart of democracy compelled his own Vice- President Pence - who was in the building to certify the results of the November American Elections in favour of President-elect, Joe Biden - to flee for safety. Since last week, I I have revised everything I thought I knew about America.
The whole world was shocked to hear Donald Trump calling the protesters "great patriots" and "very special people." At that moment I became convinced that I didn't know anything about that particular country that portrays itself as the beacon of democracy.What an incredible demagoguery of politics Donald Trump is selling to the world?
Can anyone imagine a sitting President egging his supporters on to attack legislators and his own party members including his Vice-President Pence at the sacred place of law making? How could a sitting President of America attack his own Government...?
When Americans took to the streets in peaceful Black Lives Matter demonstrations in Washington and other American cities in summer last year, the commander-in-chief released the National Guard to descend on them in a show of force. Why were the same National Guard not commanded to constrain the mayhem at Capitol Hill in a timely fashion on Wednesday January 6?
The 19th-century frontier movement well-documented in American history as: Westward Expansion informs us that the prosperity of an ordinary American can only be attained through the acquisition of lands and properties.For the past four years, Donald Trump seemed to have invoked the spirit of Westward Expansion and has mounted consistent campaign of conspiracy theories and has created in the minds of his supporters that their manifest destiny of prosperity in America can only be attained through him. That America can be great again if only he were in charge as the President.
In spite of his golden theory of Making America Great Again, more than 388,000 Americans have been killed by coronavirus while more than 23m of them have been infected with the virus not forgetting the country's soaring unemployment. It seemed the great President Trump was much more interested in his re-election schemes than following the scientific advice and protocols that were needed to contain the disease in the initial stages of the pandemic.
This scenario is a far cry from a country that is known for defeating diseases like polio, smallpox and leading the world in cutting-edge scientific and medical innovations. His other version of Making American Great Again means undermining Obamacare, withdrawing US from the Paris Agreement on Climate Change and also withdrawing America contributions and membership from the World Health Organisation at a time when international effort is needed to fight this deadly pandemic.
Trump's administration has deeply deepened the racial tension and division in America. I strongly believe America and the world would certainly be a better place without this kind of leadership coming from Donald Trump, the boss of America. Since the November 3 elections in America, some senior members of the Republican Party have supported Donald Trump in telling millions of Americans that the elections were rigged without any credible evidence.
After this political carnage at Capitol Hill by frenzied and violent mob that stormed the citadel of freedom and sovereignty - that has led to five Americans dead - can America pride itself on being a champion of democracy anymore?
When Steven Levitsky and Daniel Ziblata of the premier American university - Harvard co-wrote their book entitled: How Democracies Die, it looked as if they had the premonition that one day democracy would die in the centre of American Hall of Sovereignty as we have all now witnessed.
"The terrible scenes in Capitol Hill illustrate how Donald Trump has changed his party, and how hard it will be to rid of him"(The Economist January 7, 2021). On her part, Mary Trump - the niece of Donald Trump who wrote the book dubbed: Too Much and Never Enough in 2020 is telling the world: "My uncle is unstable. He needs to be removed immediately " (January 10, The Guardian). Adding his voice to the removal of Donald Trump , Arnold Schwarzenegger the former Governor of California thinks it is about time the Repulican Party stopped the unreasonable ploy for President Donald Trump to cling on to power.
The events leading to Black Lives Matter coupled with the radicalisation of politics in America through Trumpism and Republicanism that led to the attack on the Capitol Hill among other things, seemed to work in concert to change the positive impressions I have maintained about America over the years. Despite this negative feeling, my respect for America still holds steady because of the enormous roles the country and her great financial, economic, scientific and intellectual institutions play to make the world move around.
I remain,
Yours truly
Kofi Asante (Sir Gabo)
The Editor-in-Chief
The Sakora Wonoo Economist.
Kofi Asante is the author of the novel - Hunting for Freedom: The Magic of Sakora Wonoo. You can order your copy from Amazon, Waterstones, E-bay, Walmart.