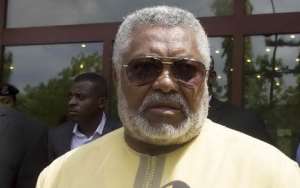 A staffer of the late former President Jerry Rawlings who was arrested by security operatives on Thursday, November 19 has been released.
The staffer, identified only as Barbara is part of a team of staffers being sought over issues relating to the death of the former President.
Her Dansoman residence was raided by over 20 security operatives on Thursday morning.
The CCTV unit in the house had been disconnected when Citi News visited the scene.
The wardrobe and other belongings in the house had also been overturned during the search.
Citi News' information suggests that the operatives were in search of information in the possession of the late former President's staffers including manuscripts of his yet to be published memoirs.
A friend of the staffer in a Citi News interview said: "I am aware that she was invited for the questioning, and I am aware that she is home now, and she is safe. All we know is that she was invited by the BNI for questioning and now she is home. She was not manhandled. She is fine".
Former President Jerry John Rawlings died on November 12, 2020, at the Korle Bu Teaching Hospital.
Whereas some people alleged that Rawlings died from COVID-19 complications, his former spokesperson, Kofi Adams rejected the claims.
---citinewsroom