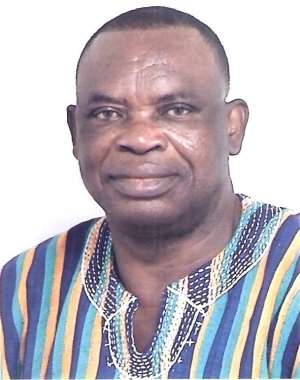 The race to parliament is on and political parties' candidates have pick nominations form to contest the upcoming elections. It must also be stated that persons vying to go independent what not doing anything wrong, evening in vying for the office of the president, independent candidates are qualified and this has seen three independent candidates filling to contest.
The Bawku enclave saw Late Hon. Madam Hawa Yakubu won the Bawku central seat as an independent candidate in the 1992 parliamentary election (first parliament of the fourth republic). In the Garu Tempani Constituent Hon. Joseph Akudbilla equally won the seat in the 2000 election (third parliament of the fourth republic).
Admittedly, seasoned politicians in the Bawku enclave have in time past won as independent parliamentary candidates before switching camp to join a major political party. Why it is not alien for a candidate to go independent, the decision of Hon Zimbe Azumah to go independent is selfish, greed, and disrespectful not only to the National Democratic Congress (NDC), rather the constituents of Garu.
The good people of Garu- Tempani and now Garu have collectively voted to send Hon. Azumah to parliament five-time (1993- 1996; 1997- 2000; 2005- 2008, 2009- 2012; and 2013- 2016). Hon. Dominic Azimbe Azumah has spent 20 years in parliament. The only longest-serving MP in terms of representations to parliament from the Upper East Region. Haven lost the 2016 parliamentary primaries and 2020 primaries, respectively, Hon. Dominic Azimbe Azumah is now demonstrating his selfish and greedy attitude; for someone to go to parliament at age 42 and enjoying political leadership till age 70; and falling to mentor and support younger generations to take over the mantle of leadership, it is highly unfortunate.
His achievement as a longest-serving politician and MP for Garu constituency is not commiserating with the development outlooks of Garu. From failure to addressing youth empowerment to women development; failure to influence road network and opening of Garu constituency; to inadequate support to farmers and Market development, Hon. Dominic Azimbe Azumah has scored a fail mark as an MP.
It is sad, that young people whose opportunity is still grabbed by self-serving politicians like Azumah are still clamoring and shouting for old men who should have been retiring. No one is against old age, for we are hoping and praying to grow old; what is infuriating is old men who seize young people opportunities and at their advanced age still struggling to clinch on to power.
We have made a lot of old politicians feel that political leadership is their birthright and for that matter, they want to also be the people's representation. This act of greed must not be tolerated by young voters and all folks, we need to make out voice loud and vote for any deserving candidate either the NDC, NPP, CPP, and others, rather than Hon. Azumah Azimbe who is an enemy to youth progress and development.
While other constituencies allowed young men and women to excel, we are rather compromising our reasoning and routing behind people who have spent 2 decades in parliament and still want to go to parliament. What else do they have to offer?
The National Democratic Congress (NDC) must deal with his decision to go independent. This is more divisive and selfish, it has the likelihood to negatively affect the chances of the party since factions create rivalry and breed tensions and infighting. For a party seeking to go regain power, it cannot allow greedy elements to go independently, especially in areas where the seat can be described as a safe heaven. it should be a course of concern.
Let me say again that, Hon. Dominic Azimbe Azumah's time is up his behaviour is the betrayal of people confidence in him. Tt is time to teach him a lesson by voting him out massively. Who in the past has sabotaged him in that matter? The youth of Garu should reject greedy politicians and vote for fresh leadership.
Author; Tahiru Lukman
Youth Activist, Dev't Consultant & Pan- African Author
Email: [email protected]