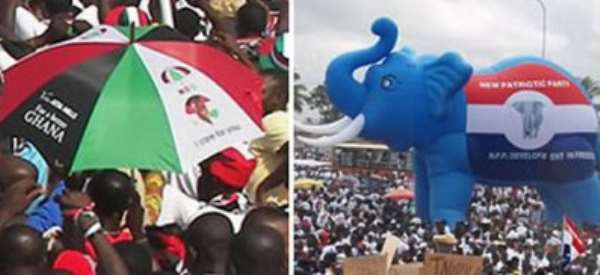 in an attempt to get back what one might have thought one shouldn't have lost in life, man makes many promises that will come to haunt him in the event that, it becomes mere promise to lure innocent people to buying into empty and unsustainable promises. The former president must therefore thread cautiously and be moderate and modest in the kind of promises he makes to the citizens leading to this year's elections. People are certainly going to be judged by what they did and not what they want to do. This is because, the Ghanaian voter over years have grown beyond mere promises.
Ghanaians are having fresh memories of all the promises the current government made in opposition before coming into office. The incessant ranting and ugly cacophonies of the current vice president and his boss are still ringing in our ears as they made all those promises. It is a fact that, they have fulfilled about 35% of those promises so far. This is my own assessment and I don't need any lectures on this. There are many of such promises that are yet to be recognized in our communities or in the country in general. We don't want even know when they will start a. Don't finish some of those promises they made to us.
The NDC on their part before the 2012 elections made weird promises, which when they came into office, they couldn't achieve much to the disappointment of many Ghanaians, hence their booting out of office. One may be tempted to say their longer stay in office than the NPP allowed them to might have done more than the latter. All the same, they both have failed woefully to keep the many wild and empty promises they made to the citizens.
Paramount among these unachievable Promises is the fight against corruption, which is a national canker eating deeper into many of not people in the country. It's become very obvious that, our two parties only pay lips service to the fight against corruption in the country. Little is seen towards this agenda than their appointees rather engaging much in it with impunity. Since this current government is failing if not flopped already, I will never believe the NDC or NPP in the fight against corruption in the country. They are the real corruption itself.
Anybody who has traveled to countries, where this okada business operations will confirm that, it has never been any helpful or healthy to endorse for any country that has major problems with road traffic movement. It's a fact that, they operators gain income from the business but the negative effects of their work have more impact than the good aspects of it. Most of these young boys team up with their colleagues bandits to rob innocent people of their money and valuable assets under the pretence of offering them services. As for the numerous road accidents they cause, the least talked about it, the better. They aren't and can't be road user friendly taking into consideration the narrow nature of many of our roads in this country. Even more developed countries that have better roads a day respect traffic regulations, they do the operate Okada like we do here or they don't just encourage it at all. Don't come and ask me which country I have been to before. If I don't have a passport of visa, can't I read and see too?
Instead of the former president to be thinking of how to eliminate this nuisance, he is here endorsing it as a way of getting votes. We must think outside the box as leaders of this country and come out with more viable ventures to ensure the continuity of successful businesses for the yout. In my candid opinion, okada isn't and can't be one of such things any government should be thinking of. Mr. Former president, you therefore need a lot of thinking to do. Don't just be desperate to come and mess up again. My unsolicited advice to you though.
It's a clearly a fact that, these two parties are taking citizens for granted. Anyway, I don't blame them. If we vote them out and bring in a third party, they will sit up and know the voters can't always be lured all the time with their political chicaneries. We see each party either the NPP or NDC engaging in their usual jobbery yet there are many out there who think their lives depend on such thieves, who call themselves incorruptible and national purse keepers. What fools we have always made ourselves of!
Can't we see promises that nothing but palpable lies meant to flatter us to vote? Then open your eyes and ears very wide this time around and tell them to their faces that, we are indeed tired of all these unsustainable promises. For how long must we the poor citizens continue to suffer while these greedy thieves keep looting what is meant for us all?
Ghanaians are watching
FAB