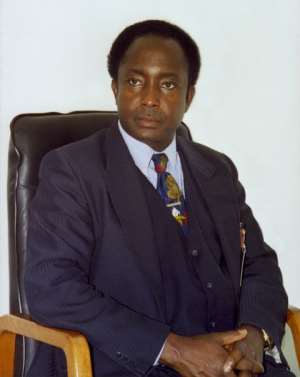 Prince Aidoo, Ghana Social Democratic Party
Mr. Speaker of Ghana parliament, Honorable majority members, Honorable members of the minority, ladies, and gentlemen.
"I have often been accused of pursuing a `policy of the impossible`. But I cannot believe in the impossibility of demanding Freedom, Peace and Justice any more than I could ever have thought of the impossibility of recruiting dedicated men and women with compassion for mankind for struggle against injustice" Prince Aidoo.
Fellow countrymen, it always becomes a tragedy whenever one talks about the real definition of Freedom, Peace, Accountability and Justice in our country, because of its complexity. These are areas that Politicians should have answers and solutions to, as the lives of their citizens are concerned. It is just too complex. What makes this topic so complex? People have made Politics so complex and as such they say: "Politics is a dirty game". What makes politics a dirty game? People find politics to be dirty because in their view, it is a game mostly played by nefarious political players. They say this game is usually played by some players who have no compassion for their counterparts. If not, then this game of politics should have been the best game that can be played to satisfy the social and political needs of the people who paid a heavy price to watch them play in the political arena.
That scared game seems to be none transparent and complex since its inception in the eyes of the poor, ignorant, helpless and oppressed people. They were expecting those political players who claim to know the injustice in the game to come to their aid. To their astonishment, many politicians have turned to be playing a different game. I thought nature really expected leaders with compassion to lead their people and protect their lives. I thought Religious leaders and Political stakeholders were trained as concerned players having an obligation to fulfil the needs of mankind.
Ironically, these same Politicians that our poor citizen, who by virtue of ignorance gave them their mandate to rule over them are yet to pay a bitter price come 2008 and beyond. I wish I am not talking in parables. I leave this for your judgement ladies and gentlemen.
Fellow countrymen, I have often been accused for pursuing a ´policy of the impossible, but I cannot believe and accept that, that political game cannot be played by people with compassion, people who are not selfish, and people who are God fearing and not corrupt. In our history, I wish some one out there with a clear mind can tell us whether we have ever been lead by any leader with these qualities? One could just access the visions of all those leaders we´ve had in our history since 50 years. Can we underline their efforts by indicating that their economic and social policies were in the interest of their people? One should as well access the duties of our past and present ministers and parliamentarians, after they have been elected by their people to redeem them from the shackles of religious, social and political bondage. How long should we the new generation be left to suffer injustice under the leadership of such nefarious political and religious game players?
The answer is not quite fetched:
Today we hear our poor people wondering to know "Why are many Ghanaian politicians fighting for power, instead of collaborating to fight AIDS, Poverty, and other basic problems facing Ghana?
Today, the main dominant political parties, the NDC, the NPP, with people such as Prof. Evans Atta Mills, Dr. Ekwow Spio Garbrah, Eddie Annan, Alhaji Mahama Iddrisu, Mr. John Mahama Dr. Kwame Addo Kufour, Nana Addo-Danquah Akuffo-Addo, Captain Nkrabea Effah-Dartey, Professor Mike Ocquaye, Professor Frimpong-Boateng, Mr. Hackman Owusu-Agyemang, Dr. Konadu Apraku, Mr. Yaw Osafo Marfo, Dr. Kobina Arthur Kennedy, Mr. K. Boakye Agyarko, Mr. Alan Kyerematen, Alhaji Aliu Mahama, Mr. Dan Botwe, Madam Hawa Yakubu,Mr Boakye –Gyan, Mrs Nana Konadu Agyeman- Rawlings are said to be ready to fight for presidency come 2008.We know some of them have declared publicly and others, we are yet to know whether they are interested as it is being rumoured.
A reasonable writer just wrote:
"However, this phenomenon is not new to these political players even though the number of aspirants, this time raises a lot of questions: what is it that all these aspirants have seen in the Presidency to warrant their unbridled interest and their early announcements at steering the affairs of the nation? What happened to President Kufuor's order to ministers serving in the current administration, who have Presidential ambitions? There is no doubt that the current goings-on within the NPP, particularly, is a manifestation of the NPP's internal democracy at work, but it should not take a political scientist to know that the current "jamboree of beauty contestants" game will affect the business of the country. Their ability to deliver is unquestionable considering their pedigree and achievements..
"Personally Mr. Speaker, I don't know if it is the presidential posture of giving orders, neither do I know if it is the privilege of travelling and dining with the world's greats that is the motivation for the scramble for the single spot to the Presidency as if the Presidency is a tea party. Of course, in Africa we know what such a position brings: good living, free visas for self, family, friends, and other hirelings.
Who doesn't know Osafo Marfo, Addo-Kufour, or even Kofi Konadu Apraku? Weren't Ghanaians the same people who questioned, en masse, the President's decision to relieve Osafo Marfo of his ministerial portfolio?" A qoute from Godwin Yaw Agboka article which was published by the "Public Agenda" in their latest publications
Mr. Speaker of Ghana parliament, Honorable majority members, Honorable members of the minority, ladies, and gentlemen. Is it not interesting to note, that today's political obligation have now turned to be a "Tea Party" for visionless political players?
Today our youth are desperate, weeping their eyes out and looking for answers from their leaders. To their dismay, our youth have grown to realize that the characteristic of their so-called leaders is nothing to write about, but rather their interest is to outdo each other to gain some advantage. The end result is that their concentration is missing. Now the youth can see their political players on the field playing their dirty game as usual.
Fellow countrymen, isn't it justified for our youth to ask whether politics is truly a dirty "GAME?"
Let's not deceive ourselves, the race to capturing the position does not warrant a half-hearted effort, so all those who put up excuses that they will be fully committed to the business of government and the country have got it all wrong and they shall be reckoning with the voice of the youth as they are being prepared by the Ghana Social Democratic Party (GSDP). God bless you all.


Ghana Social Democratic Party
Secretariat
Germany