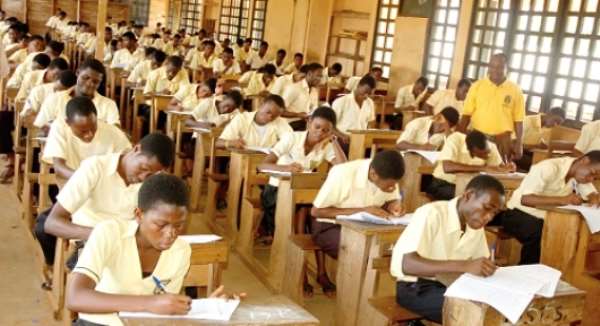 Indeed, our educational system which is on the verge of collapsing will certainly not survive, if the free education policy will allow the quality of WASSCE to be compromised. What were these students expecting from the president? That, he should give them free education and leak the papers to them to score higher grades and then turn round to say they have performed excellently or what? I don't think leaking WASSCE questions is one of the packages of the free education policy.
How can anyone then feel proud to compare this free education policy to the one Nkrumah offered to some Ghanaians and still have the temerity to say that, it's a campaign promise that's been achieved? Which government has given past questions to students before and for what? As much as I commend the government for introducing this free education policy, I equally condemn government for trying to make everything free.
Our students don't learn because they think everything including WASSCE exam questions is now free. But it's not their fault. The kind of grades some of these students bring to the schools is not only worrying but ludicrous. It will surprise you to know that, many of those with grades ranging from 40 and above can't read and write properly and when they attempt to speak English, one loses appetite at once. So how do you expect them to pass their final exams? Therefore, such students have only one thought in their minds and that's relying on government to leak the questions for them to pass.
If we don't stop taking political advantage over our opponents with national issues and take education seriously as a country, our certificates will soon not be valuable anywhere in this world, that's if only that hasn't already been considered by many international organizations. There are three areas if any country wants to develop must concentrate on and these to me are; education, health and agriculture. But we seem to be doing little or even nothing in that direction. How do we then develop and stop importing everything even common toothpicks?
The posture of the government in handling this very important issue of the free education policy makes students expect everything free from government. The free package, whereby everything is totally free is too much for a developing or even any middle-income country like Ghana. Government after offering free education to us, shouldn't have been burdened with buying and supplying past questions to students. The duty of these students is to learn hard to pass their examination. However, once the government thinks it's more of a political party incentive to us rather than a national programme to allow the poor access education, the end result certainly becomes disastrous as it reduces the quality of our examinations.
There are many students, who have expressed their disappointment in the free education policy after the few papers they have written so far. Some are even seen in videos that have gone viral in social media chastising the government for not helping to make the questions cheaper or even leak them as they have even expected. What kind of education are we then giving to these children? If it's true they expected this kind gesture from the government and indeed have gotten it in any way, aren't we exposing these kids to corruption and telling them it's a good thing? We must be very careful of what we actually for our future leaders in this country.
Ghanaians are watching
FAB