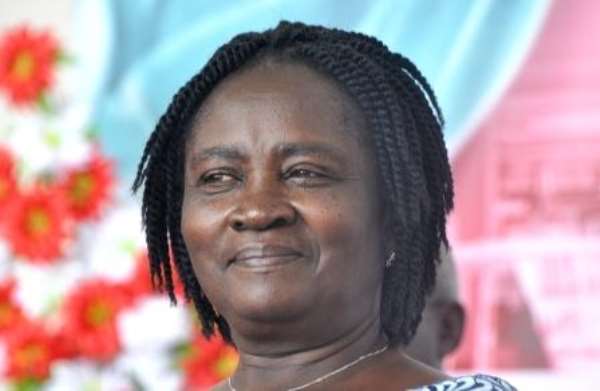 I have always said that, it's better we look at who can do the work rather than which political party a person is coming from to do the work. Certainly, picking a person as a running mate or appointing a person into a public institution must always be on competence basis and not on the basis of political nepotism or favouritism.
The hubbuboo with much negative and disparaging comments, that has greeted the picking of a female candidate as the running mate for the NDC and which mostly seems to be coming from the NPP rather befuddles as well as bewilders me to say the least. There is something called competitive advantage in organisations and this comes with what it takes to gain profits more than others in similar or same business operations. Therefore, if the NDC thinks picking a woman as a running mate gives it such an advantage over other political parties, why must their opponents complain? Is the NDC impelled to pick a candidate that suits the NPP? That would have been a political suicidal.
Again, I think the NPP is rather uncomfortable with the choice of the NDC's credible, competent and qualified running mate hence their ugly noises all over the place. If you're going into a war and your opponent brings a general who isn't fit to stratagise enough to defeat your arm, would you be enthusiastically happy or bleed with melancholy? This is why I think the NPP is rather worried not because the woman isn't fit for purpose, but because they fear for a heavy defeat. Methinks the NPP should rather be in a jubilant mood because, their enemy is preparing for his own defeat in a grand style by picking a nobody to compete with their economic messiah in the name of the current vice president. Why are they rather chastising apprehensively the choice of the NDC if that choice hasn't sent shivers down their spines the very first day they heard it announce?
Truth be told in this country! I swear if fine body was a trump card to the winning of elections in this country, many people would have lost massively all the time and some people would never had ruled or be ruling this country at all. So, why subject your prejudice to such a ridiculous amount of frivolities by offering to suggest that, the appearance of a running mate will cost a party a fortune? I thought we should be questioning what she brings on board and not how sexy she looks?
Furthermore, those who feebly and lamely argue that, a woman can't be a running mate might have forgotten the extolment and excellent achievements of the greatest woman warrior in the annals of our political narrations in this country. Have they soon forgotten of Yaa Asantiwa of great memory or they're just confused and pretending? Let no one down play on the passion of a woman that assuages many wounds and heals the injured to satisfaction. Therefore, her ability to do this needs to be subjected to questioning but not her gender and beauty. Gender and beauty add nothing to our quest for development as a country bedevilled with challenges which corruption and economic instability lead
It's must also be noted that, political leadership is not a beauty contest, where the finest personalities need to be presented to win. Even these days, most beauty contests care much about competence of candidates rather than the real beauty. I wish the NPP could zip up rather than help market the product of their competitors in the impeding general election.
It's true women are their own enemies, but when it comes to having their own at the zenith of our political history, trust me you, they will fail you if you think you can play on their intelligence to have them go against their own. It's therefore important for the NPP to be meticulous with their comments against the choice of the NDC's running mate if they don't want to incur the political wrath of the majority of women in the country. Because, so far what I hear and see isn't good enough any propaganda against the NDC's choice but a flaw that will cost the NPP if they don't tread cautiously enough.
Finally, the NPP shouldn't attempt to tell us they don't believe in the potentials of women in this country, when they have many women doing wonderfully in their current government than some of the so called men, who only just add up to the numbers. The former Chief Justice distinguished herself in the discharge of her duties in the recent years and we can't overlook that. There are still many such women doing tremendously and marvellously well in their various assigned roles in society right under our noses and globally.
Ghanaians and most so, women are watching
FAB