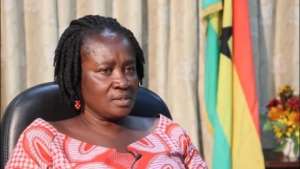 Prof. Jane Naana Opoku Agyemang
We anticipated, conjectured, and engaged in many acts of premonitions on who will run with ex-President John Mahama in the 2020 election. After an uphill search among many, we kept navel-gazing, his choice of a running mate was not short of the historical shocks we've had since the start of the 4th republic; the erudite Prof. Jane Naana Opoku Agyemang.
A professor of English Language, an adult and for that matter the first woman to be honoured with such an opportunity in our two main political parties. Following her appointment, many garrulous comments have been made on her ability to match up with her opponent on the other side- Dr Mahamadu Bawumia.
While I think it's extraneous to engage in such juxtaposition, I believe the parameters for assessing a candidate in the build-up to this election needs not to be those trivial ones we've kowtowed to over the years. Ghana is so frail a country to be left in the hands of persons with great mastery over tomes but lacks transformational leadership abilities. While I seek not to cast aspersions upon the very learned professor's savvy abilities, the plague this pandemic have stricken on our economy makes it prudent for pragmatic leaders who will be able to save our fragile economy in the much critical post-COVID-19 era.
Gender is so feeble a reason to choose her as a vice-presidential candidate. Her records at the Ministry of Education have been cast in eternal bronze and laid in every home in this country. For a professor to have signed a petition seeking to pardon unscrupulous elements who spewed death threats and rape intentions on a fellow woman is one of her acts that makes her unfeminine enough to score her points on such grounds. How politics invalidated all the knowledge she's acquired.
For a fact, no record of gender advocacy is written in the chronicles of our country which relates to Professor Jane Naana Opoku Agyemang and so that argument is flawed on arrival. What baffles me is that women who recently hooted at another woman for winning an election; calling her a "bloody widow" are now campaigning for women participation in our politics. I hope this is not one of the beguiling acts the NDC uses to woo electorates. We are way above these.