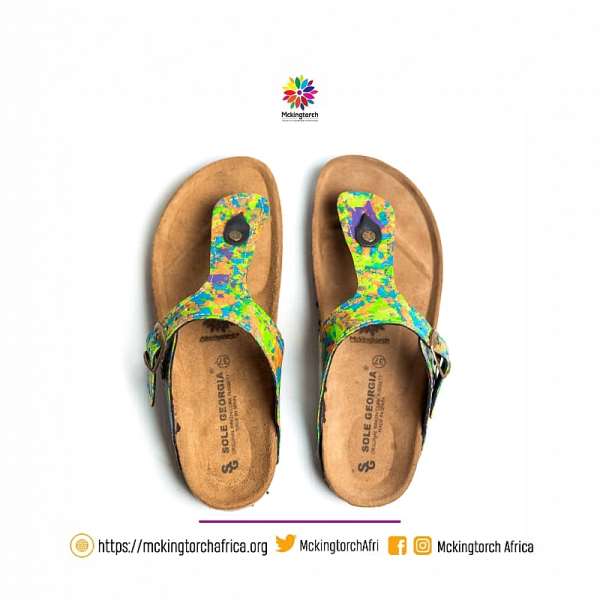 Mckingtorch Africa, a social enterprise that uses plastic waste for arts & products and does advocacy on plastic pollution has ventured into creating of leather-like materials i.e. sandals, bags etc. from shredded plastic waste. The team at Mckingtorch Africa has a motive to change the narrative. Looking at the situation we find ourselves in, in terms of waste pollution, the team at Mckingtorch Africa has come up with this waste recovery project which seeks to create a revenue generating avenue for households, individuals and organizations. The waste buy-back and churning to sandals' program will afford a solution to segregating waste and waste pollution that is evident in our communities.
The team Mckingtorch Africa is looking forward to produce over 5000 pairs of sandals in the next 12 months as well as recover over 10 tons of plastic waste bags through the project.
In an interview with the founder of Mckingtorch Africa; Makafui Awuku stated that "I am launching the products from plastic waste bags and our goal as a team has remained an advocacy for plastic pollution which we want to take a step further with this project."
He alluded to President Akufo-Addo's program of making Accra the cleanest city in Africa. "One of our main objectives is to work on an extensive assessment of the president's Accra Cleanest City 2020 Agenda and this project is one of the ways to explore the sustainable options that we can use to tackle our sanitation problems," Makafui said.
The Mckingtorch Footwear comes in designs called; Sankofa, Borlaife, Duafe, Joy, Heritage and Freedom. The footwear is going to be available on their website at www.mckingtorchafrica.org and on their social media handles on Facebook and on Instagram with name Mckingtorch Africa.
The project will be launched tomorrow 7th July, 2020. Customers and stakeholders will be afforded the opportunity to pre-order the items especially the sandals however delivery of orders or self-pickup will start on 14th July, 2020.
The exhibition will be held at Total Petroleum 37 Service Station for 30 days and self-pick-up or purchase will be available for clients in the Solar Kiosk of the same 37 Service Station.
They have also partnered with some reputable logistics and courier services providers for nationwide delivery. The orders can be made on the respective social media handles and website.