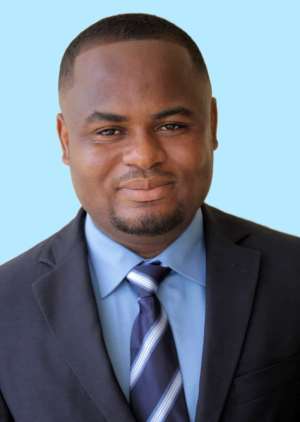 Elijah Mensah
STAMFORD, Conn. (June 24, 2020) – Keep America Beautiful®, the nation's leading community improvement nonprofit organization, today announced the certification of Keep Ghana Beautiful , which becomes Africa's first affiliated organization with Keep America Beautiful. Keep Ghana Beautiful joins more than 650 Keep America Beautiful domestic affiliates and five other international affiliates that are in Canada, Bermuda, and the Bahamas.
"Becoming a Keep America Beautiful international affiliate is certainly marking another milestone in shaping our project in Ghana," said Keep Ghana Beautiful Executive Director Elijah Mensah, who has spent the past year with Keep America Beautiful as an Atlas Corps Fellow , a program that is designed to develop social sector leaders, strengthen organizations, and promote innovation through an overseas fellowship of skilled nonprofit professionals. "We are proud to belong to the Keep America Beautiful family of affiliates. With this certification, we look to working together to contribute to creating clean, green, and vibrant communities in Ghana. "
Keep Ghana Beautiful's staff of six provides programs such as "Recycle for Life," "Great Ghana Cleanup," "Trash-Free Waterways," "Greenspace Ghana," "Freshwater Species Conservation," and "Young Stewards Education" to engage and empower Ghanaians to take action to prevent littering, improve recycling, and green and beautify the nation. The programs are designed to align with many of the United Nations Sustainable Development Goals (e.g., UNSDGs 3, 4, 11, 12, 13, 14,15, and 17).
"With the burgeoning population growth and its unprecedented waste generation in the country, there is a great desire to develop more sustainable communities," Mensah said. "All over the country, the lack of environmental consciousness further elevates the waste management crisis. There are incessant littering and indiscriminate illegal dumping in public spaces, without regard to the dangers it poses to human health and the environment. By not properly managing our solid waste and recycling, we further destroy the natural beauty of our communities.
"I was eager to build my nonprofit and scale my project in Ghana and learned that Keep America Beautiful was the perfect match to help me accomplish my goals," he added. "I'm looking forward to heading back to Ghana with Keep Ghana Beautiful as the first affiliate of Keep America Beautiful on the African continent."
Passionate about driving positive social change, Mensah co-founded the community-based nonprofit organization Help Change Ghana, the predecessor of Keep Ghana Beautiful. The organization designed and launched the Community Litter Prevention initiative, which trained and developed skills of 300 volunteers through a "train-the-trainer" model in 2014. The initiative has since reached over 30,000 individuals in nine communities with information about litter prevention techniques. Additionally, he coordinated conservation education programs in community schools, which led to the formation of eco-clubs in 96 schools through March 2019.
Before forming his nonprofit, Mensah worked with Ghana's National Disaster Management Organization, where he coordinated a team that administered support for flood-displaced victims in rural Accra. Also, he volunteered with the Accra Metropolitan Assembly in public cleanup events such as the National Sanitation Initiative. Through these experiences, he developed skills in project planning and implementation, leadership development, training, and capacity building.
"Clean, livable communities are the foundation for strong local economies," said Keep America Beautiful President and CEO Helen Lowman. "Our message is a clear and powerful one, and today our affiliates – domestically and abroad – are working hand in hand with civic, business, and government partners to renew and revitalize their communities. Elijah has been a tremendous asset to our organization through his work as an Atlas Corps Fellow, and we're eager to continue our work together to help keep Ghana beautiful."
For more information about Keep Ghana Beautiful, visit https://keepghanabeautiful.org/ .
About Keep America Beautiful
Keep America Beautiful, the nation's leading community improvement nonprofit organization, inspires and educates people to take action every day to improve and beautify their community environment. Established in 1953, Keep America Beautiful strives to End Littering, Improve Recycling, and Beautify America's Communities. We believe everyone has a right to live in a clean, green, and beautiful community, and shares a responsibility to contribute to that vision.
The Keep America Beautiful Model for Change – steeped in education, research, and behavioral science – is the cornerstone of Keep America Beautiful. We empower generations of community and environmental stewards with volunteer programs, hands-on experiences, educational curricula, practical advice, and other resources. The organization is driven by the work and passion of more than 650 Keep America Beautiful affiliates, millions of volunteers, and the collaborative support of corporate partners, social and civic service organizations, academia, municipalities, elected officials, and individuals. Join us on Facebook , Instagram , Twitter , and YouTube . Donate and take action at kab.org .