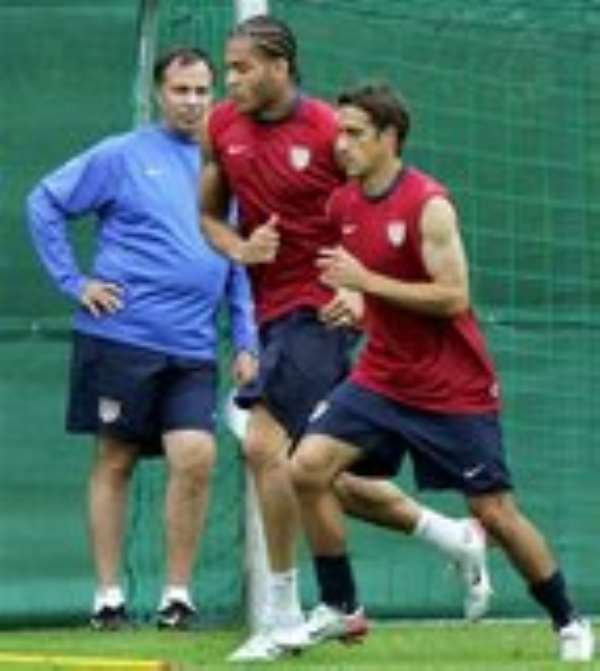 Following their disappointing 3-0 loss to the Czech Republic, FIFAworldcup.com asked a handful of the USA's key performers just what went wrong - and what they will need to change ahead of a now crucial fixture with three-times world champions Italy on 17 June in Kaiserslautern.
Drawn into a treacherous-looking Group E, alongside Italy, Ghana and the Czechs, the USA always knew their task of getting out of the group stages would be no stroll in the park. But they were surely not expecting the heavy defeat they suffered against the Czech Republic on their 12 June opener in Gelsenkirchen.
"We didn't keep our shape well at all against the Czechs," sighed full-back Steve Cherundolo, who plays his club football in Germany's Bundesliga with Hanover 96. "Against Italy we are really going to have to do better at that and also at winning the second balls. Their (Czech) players seemed to win them all."
Get the latest news from Group E
When asked if the loss – which came courtesy of an early towering header from Jan Koller and two wonder strikes from Tomas Rosicky – was something the US team could overcome, Cherundolo was quick to reply. "Absolutely. We will regroup and come out stronger against the Italians. We have no choice but to improve."
Confidence in short supply
The English-based striker Brian McBride's response was typically to the point. "Generally, we just didn't play well enough against a very good team who punished the mistakes we made," said the big centre-forward, named Fulham's player of the year by Craven Cottage fans. "Heading into the Italy match we really need to come out with more confidence and play with much more composure at speed if we're going to get a result."
John O'Brien, who came on for the second half, said conceding the early goal had been a key factor. "We can't allow a goal in the fifth minute like we did against the Czechs. You come out with a game plan and an idea about how to approach the game, but when you concede so early it all goes out the window."
Youngster Bobby Convey – who was one of few players singled out for praise by coach Bruce Arena after the match – stressed the importance of putting the opening-day disappointment behind them. "What we need to do is just forget about this game as quickly as possible," he said. "If we come out and play as bad against Italy as we did against the Czechs, we're going to lose. It's just that simple."
Simple, but at the same anything but against the much-fancied Azzurri.