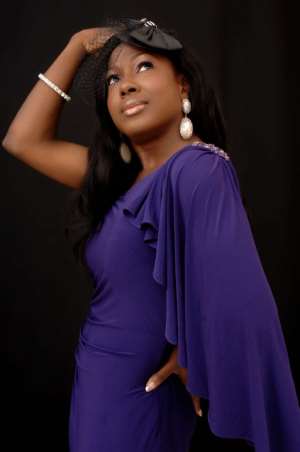 Last Sunday, she was a co- anchor with Big Brother Amplified Winner(Uti Nwachukwu) at a Fashion and Beauty Award Ceremony and needless to say that she did a good job. Welcome to the world of Susan Peters, an accomplished Nollywood actress, model, interior decorator and script writer. She has featured in many Nollywood films and still counting. In this interview with BUKOLA BAKARE, she spoke about how she almost lost everything and the rough path she had to take to get to the top.
You have become a household name in the Movie industry. What was your background like?
Well… Susan Peters is an average Nigerian girl from an average home. I am from a family of eight. We were actually eleven but we lost three. I am the third child with five younger siblings. They live in Kaduna. My Dad is a retiree from the Air Force and Mum is a housewife.
What was it like growing up in the midst of seven siblings?
There was the good, bad and the ugly. My Dad used to be very rich when he was in the Air Force. Then, there was no family problem, you know. Its not as if he's poor now, he's okay but then, it was like we were living with a silverspoon. We didn't lack anything; even the househelp we had then really enjoyed. You don't drink garri in my house. If my Dad caught you drinking it, it's a problem so you can imagine the kind of upbringing that I had. It got to a point that he lost everything and there was no help from anyone because while growing up, my Dad used to be the strict type. We didn't receive vistors; even female ones so we ended up not knowing most of our uncles and aunties. When we had problems, there was nobody to run to, most people thought we couldn't make it but I thank God today. My sister is in the Air Force and she's a Captain now. My elder brother works for a communication company and I'm an actress. The others are equally doing well.
When did you decide to become an actress; was it by accident?
It did happen by accident because my dream was to become an Air Hostess. I used to love it when I see the British Airways Cabin Crew in their mini-skirts and decided that this could be the job for me. I went for an interview at Chanchangi Airlines in Kaduna and I got the job and was supposed to come to Lagos for a course. After a while, they called that we had to sponsor ourselves and my Dad was broke then, so I couldn't actualise my dream. I therefore decide to start buying and selling. I'll go to Cotonou to buy womens' stuff and it was selling like hot cake and I said to myself' Why don't you just get a shop and start from there?'. I got one at Benue Plaza, Kaduna and the space that I got was so big and I decided to partition it on one side to accommodate a salon and boutique. I have both now and its called Sue's Place.One day, a group of artistes came to my shop in Kaduna and they wanted a place to act. The guy told me to fill a gap where I was just going to mime. They didn't even pay me but gave credit to the shop. He later told me that I did well and should pursue a career in acting. There's an acting school in Kaduna called 'VideoWave'. There, I did a course in Stage and Film and it was quite difficult. There was a particular lecturer who said ' Susan, you can't graduate, you can't be a good actress and you have nothing up there'. I said to myself that I had something to offer so we had exams and they invited lecturers from Zaria and I came out the best overall female with a distinction, I was shocked.
What happened afterwards?
I came to Lagos and wondered how people survive in the city . I came with some friends and I must say that I'm the last woman standing. My friends couldn't cope so they went back to Kaduna.
What was responsible for that?
In the beginning, when you are in Lagos, you actually find it difficult to settle down. We were staying in a friend's place and at a point, he started making passes which we rebuffed. My friends couldn't cope. At a point, I had to go back to Kaduna. Olu Jacobs or Alex Usifo (can't remember which one now) told me that nobody will know me if I keep shuttling between Lagos and Kaduna. Kaduna's kind of quiet, not rowdy like Lagos so I was staying with a friend in Victoria Island till I was stable.
How many Films do you have to your credit?
Over thirty.
Apart from acting, what else do you do?
I model, do make-up and I'm also good at interior decoration. I weave hair so I'm an all-purpose Susan(chuckles).
What's the most challenging role you've played?
That would be a character I played in Sound of Poverty. The film was about four girls from a poor background and one of them had the opportunity to make it. She was actually supposed to share her fortune with everyone but she was rubbing it in. It's a story about everyday life in the slum. You just keep telling yourself that you don't want to go through poverty. The role gave me an inner strength that I have to make it in life.
You act, model and do so many other things. What do you do in your leisure time?
I love watching movies and sleeping.
Are you one for food?
I love pounded yam and Ogbono soup. While growing up, I had problems with eating. My Mum said she had to force milk into me but once in a while, I relish food and Ogbono's my favourite soup.
What's your philosophy of life?
If tomorrow comes, just thank God that you are alive and you can move on.
Your phobia?
Water. I don't know how to swim but I think I'm gradually getting over it. I have this feeling that something will swallow me when I'm around water.
Do you have any advice for people who have passed through hurdles like you?
I'd say they shouldn't give up. When you know this is what you want, you keep trying. Even if it doesn't work out, keep trying until it works. Another thing is forgiveness, once you forgive people around you, you'll have peace all the time. People offend you and vice versa. Once you forgive, things will work out for you, even when you didn't plan for it. Have an open mind.
What are your likes and dislikes?
I love dancing, travelling, watching movies. I love fashion in general, meeting new people. I love babies too though I don't have one yet(chuckles).I hate people who lie, back stabbers, people who don't have a good sense of humour and people who disrespect others.
How would you assess the movie industry?
I think the industry's growing now, thanks to the National Film and Vidieo Censors Board. If we can finish that phase,then we'll go places. Our movies should also have less juju content in it. I think Nigerian movies are going places. The issue of piracy and marketers is also being addressed. Artistes should be paid well as this would go a long way in motivating them to put in their best. Even the Bible says' A labourer is worthy of his wage'.
Who are you role models?
International Artistes; Charlise Theron and Tom Cruise. In Nigeria, Joke Silva, Olu Jacobs, Alex Usifo and Bimbo Akintola.