Nollywood Star Alex Lopez's role in Changing Faces and other movies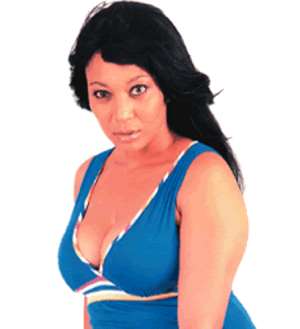 If Chineze Anyaene's IJÉ the Journey brought out the best in Genevieve Nnaji and Omotola Jalade-Ekeinde, then Faruk Lasaki's Changing Faces did the same for Alex Lopez. But the only difference is that she did not make a big splash over the challenging role she played as Franca the caring Nigerian wife of a brilliant white Architecture whiz kid Dale, a born again Christian whose dignity is accentuated by his fidelity. But Franca's marriage hit the rocks when Dale met the sexy fun loving, free spirited and lively young reporter Lola at an Architectural conference in a beautiful hill top hotel in Ibadan. Imagine how you would feel if you caught your darling husband having raunchy sex with your housemaid.
You can see how the whole drama played out when Changing Faces opens at the Silverbrd Cinemas and other cinemas on December 16, 2011.
Many people don't know that Alex's father was Brazilian, but her mother is a Nigerian Igbo from Obosi, Anambra State. The beautiful actress was the second runner up in the 1993 Most Beautiful Girl in Nigeria and she is a happy single mother of a cute son.
Alex has played lead roles and supporting roles in scores of Nollywood movies like Domitilla, Love, Sex & Marriage, Dangerous Girls, Abuja Connection 2&3, Emotional Hazard, The One I Love, Akata, Catastrophe, Jungle Justice, Moving Train, Remarkable Pains, Scout, Sisters On the Run, Six Problem Girls, The Good The Bad And The Terrible and Walls Have Ears. She noted that playing a lesbian in Zeb Ejiro's fantastic movie Domitilla affected her public image, but she would never be caught doing that in real life.
Alex recently played the role of Buchi in Pradah, produced by Tricia Eseigbe Kerry and directed by Kingsley Kerry. She presently on location making her own movie and acting in new TV series.