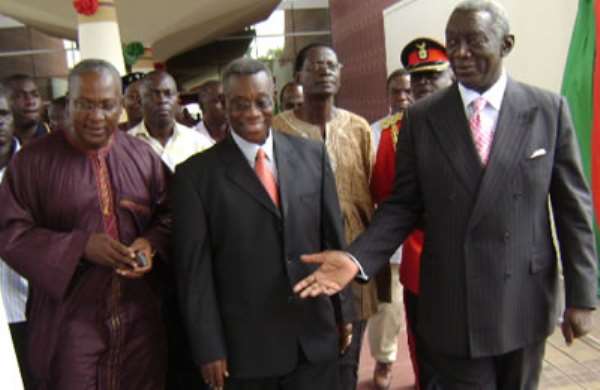 The Office of the President said on Monday that former President John Agyekum Kufuor had been allocated two Mercedes Benz
saloon cars and arrangements had been made to immediately deliver them.
Furthermore, two four-wheel drive vehicles would soon be delivered to
him, a statement signed by Mr Mahama Ayariga, Presidential Spokesperson said
on Monday.
It said there had been a discussion between the Chief of Staff, Mr John Henry Martey Newman and staff from the Office of the former President led by
Mr Kwadwo Mpiani, former Chief of Staff on the subject.
"The Office of the President is unhappy about negative media reportage on the retrieval of vehicles in the custody of the former President…
"The Office of the President is surprised that the spokesperson for the former president, Mr Frank Agyekum, is unaware of all these arrangements. We would like to emphasise that we will not engage in any deliberate action to embarrass the former President."
The furore over cars for the former President began when he was asked to return bullet proof BMW cars for a replacement.
GNA