Exclusive breastfeeding: Myths versus facts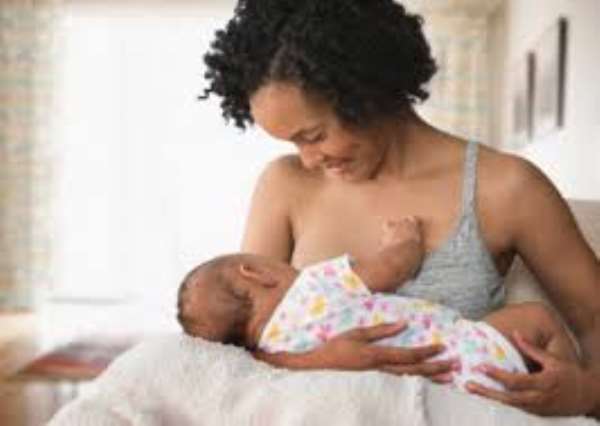 "Breastfeeding is a natural safety net against the worst effects of poverty. If a child survives the first month of life… exclusive breastfeeding goes a long way towards cancelling out the health difference between being born into poverty or being born into affluence." — James P. Grant, former UNICEF Executive Director.
Sharing her experience, is a 29-year-old mother of twins, Madam Akosua Akomea from Homaho in the Assin South District. Her confession about exclusive breastfeeding was revealing, practical and interesting to convince lactating mothers who are against the practice to have a second look at their unhealthy decision.
She told the Ghana News Agency (GNA) that: "Until I joined the Model Mothers Club that educated us on exclusive breastfeeding, I never knew the health benefits attached to exclusive breastfeeding.
"As a result I gave water and food to my three children who gave me troubles, falling sick often. During their upbringing as babies, hardly did a week pass by without them being admitted at health facilities to be treated.
"But after joining the Club and being educated about the importance of exclusive breastfeeding and practicing it, I no longer go to the hospital frequently.
My fourth baby (twins) look healthier than my first three children when they were at the same age, she said.
Exclusive breastfeeding has many health benefits for both the mother and infant. Breast milk contains all the nutrients an infant needs in the first six months of life.
It protects against diarrhoea and common childhood illnesses such as pneumonia. It has longer-term health benefits for the mother and child, such as reducing the risk of overweight and obesity in childhood and adolescence.
Significance of exclusive breastfeeding
Exclusive breastfeeding means that the infant receives only breast milk. No other liquids or solids are given – not even water – with the exception of oral rehydration solution, or drops/syrups of vitamins, minerals or medicines.
Starting out right makes breastfeeding a pleasant experience to you and your newborn. However, misconceptions and myths over breastfeeding have prevailed for many generations eroding gains in exclusive breastfeeding.
Ghana Health Service (GHS)
Dr Godfred Kwabena Sarpong, Deputy Central Regional Director of the Ghana Health Service (GHS) has discredited such unfounded misconceptions. According to him, there was substantial evidence that exclusive breastfeeding for six months had many benefits for the infant and mother.
He was speaking at the launch of a campaign in Cape Coast to scale-up awareness on the benefits of breastfeeding as part of activities to commemorate the 2020 World Breastfeeding Week.
The campaign, dubbed: "Start Right, Feed Right-from Birth to Two Years," is supported by the World Health Organisation (WHO) and the United Nations Children's Fund, the major implementing partners, in collaboration with the GHS.
Debunking the misconceptions, Dr Sarpong said scientific evidence, had proven that early initiation of breastfeeding within one hour of birth protected the newborn from acquiring infections and reduced premature mortality.
Colostrum is the first milk your breasts produce during pregnancy. The small amounts are perfect for a new baby's tiny stomach. Just make sure that you start early by giving your newborn your breast to latch on to.
According to him, the first day's thick colostrum is very important for your baby as it contains essentials nutrients, antibodies and immunoglobulins. Once your baby starts sucking well, more milk will start coming down in a couple of day's time.
First-time expectant mothers
To many expectant first time mother's like Cecilia Duncan, the option to breastfeed or not is influenced by several factors including but not limited to cultural practices, health status of both mother and infant, nutrition knowledge, and support from family and other stakeholders.
The 22 years old mother had several perceptions about breastfeeding based on what had seen or heard from people about breastfeeding. According to her, many first time mothers feel unskilled and therefore are unable to decide on feeding options.
Health Promotion
Mr Matthew Okor Ahwireng, the Central Regional Health Promotion Officer, urged health promoters to prioritise service delivery in combination to offering excellent health communication as the cornerstone to erasing the myths associated with exclusive breastfeeding.
He discredited misconceptions about exclusive breastfeeding and outlined the fact associated with them.
Myth: Stress makes milk dry up in mothers
Fact: Although extreme stress or fear may cause milk to stop flowing briefly, but such response to anxiety is usually temporary. Evidence is growing that breastfeeding produces hormones that reduce tension, calm the mother and the baby and create a loving bond.
Myth: Babies that have diarrhoea need water or tea.
Fact: Because breast milk is 90 percent water, exclusively breastfed babies that have diarrhoea do not usually need additional liquids such as glucose water or tea. Water is often contaminated in emergency situations. If diarrhoea is severe, oral rehydration therapy (administered by cup) may be required.
Myth: Once breastfeeding has stopped, it cannot be started again.
Fact: With an adequate re-lactation technique and support, mothers and their babies can be helped to restart breastfeeding after a switch to infant formula. This is sometimes vital in an emergency.
Myth : Night-time feedings aren't important
The levels of Prolactin, the hormone responsible for milk production, is at its highest at night. So night-time feedings (or pumping out milk from the breasts) are important for milk production. If you're tired and want to sleep, you can take your baby to sleep with you. When you co-sleep with your baby they can latch on to your breast to feed as often as the baby wants to.
Myth : Modern Milk Formulas Are Almost The Same As Breast Milk
Breast milk is the Best! No milk can replace that. These claims are incorrect. Modern formulas are only superficially similar to breast milk.
It's been proven and tested that breast milk has over 300 ingredients including white cells, antibacterial and antiviral agents, etc. While formula has only 40 (non-living) ingredients like iron, lead, aluminum, manganese, protein and many more.
Formulas don't vary and are made to suit every baby whereas your own breast milk is just suited for your baby's unique needs.
Other myths are:
Colostrum should be discarded because it's dirty. Colostrum is yellow because it has been in the breast for too long and has gone bad, a baby should not be suckled until the "white milk" comes in, a sick infant should be given only rice water.
Breast milk is thin and not enough and therefore babies need other foods and milk. Breast milk gives some babies allergies. Breast milk that accumulates when the mother is separated from her baby should not be given to the baby. Babies need water. Babies need to receive traditional teas and medicines.
Bottle feeding is harmless and hygienic as babies in industrialized or middle-income countries can safely be fed on water or formula together with breastmilk because the risks of contamination and diarrhea are minimal. Mothers cannot eat or drink certain foods or liquids during breastfeeding.
A mother who is angry or frightened should not breastfeed, a mother who is ill should not breastfeed, a mother who is pregnant should not breastfeed, a mother who breastfeeds cannot take medications, mother who is breastfeeding cannot have sex because the milk will go bad; therefore, she should stop breastfeeding soon so that sexual relations can resume.
Pressure from society
Madam Matter Otoo, a 38-year-old mother of a four-month old baby from a Abura-Zongo, a suburb of Cape Coast admitted that it was not easy for her when she begun the exclusive breastfeeding with her baby as the mother in-law would not allow her to do so.
According to her, the mother-in-law threatened her that her baby would die if she exclusively fed it on breast milk and also thwarted her efforts to exclusively breastfeed in many ways.
She said her mother-in-law was of the view that all the children she gave birth to were given water and even fed during their infant stages and wondered why she was practicing exclusive breastfeeding.
Eventually, Madam Otoo had to run away from the husband's house to the father's abode to enable her to breastfeed her exclusive breastfeed her baby.
She said when she returned to her husband's house and the mother-in-law saw the differences in the growth of the baby, she bought into the idea of the exclusive breastfeeding and allowed her to continue with the practice.
The situation of Madam Otoo is not an isolated case. Some negative cultural practices remain a major threat to the survival of infants and could even lead to mortalities.
Good Nutrition
Mrs Rachael Effe Asabo, the Central Regional Nutrition Officer, said it was important to take a more critical look at the breastfeeding situation in Ghana as the current 43 per cent rate of exclusive breastfeeding was a drop from the 63 per cent in 2008.
She underscored the need to improve current support systems for exclusive breastfeeding, especially by creating the enabling environment in the workplace, markets and all public places for women to breastfeed.
She said breastfeeding was undoubtedly one of nature's most powerful life-saving gifts that provided antibodies to protect babies against many childhood illnesses and reduced the risk of maternal and child mortality.
"In the longer term, the magical ingredients of breastmilk prevent the risk of acquiring non-communicable diseases including childhood asthma, obesity, diabetes and heart related diseases," she added.
Role of stakeholders
Viewing the significant role exclusive breastfeeding plays in the proper growth and survival of babies, Dr Sarpong said is very critical that mothers are counseled, encouraged and supported to initiate exclusive breastfeeding.
Governments, civil society organisations, the media, traditional and religious leaders, family members and community health workers all have a role to play in the survival of newborns through the uptake of exclusive breast feeding.
Indeed in this way we would all be seen contributing to prevent many infant deaths and thus contributing to the attainment of the Sustainable Development Goals (SDGs) which prioritises maternal and infant mortality issues.