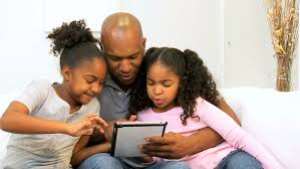 Photo credit - Shutterstock
gadgets and kids don't mix well
Kids use gadgets for playing games, chatting, browsing or watching movies. The activity is usually so involving that they don't take their attention off the screen. They also don't pay attention to things like posture, screen distance, and brightness, which can adversely affect their vision and health.
Staring at electronic screens for extended periods causes discomfort. You suffer from dry eyes, eye irritation and find it difficult to focus for a while. Spending too much time in one posture can also result in neck and back ache. If you are finding it difficult to cope with screen time , imagine what your child's eyes must be going through.
Digital screens have become an inseparable part of life. You can't wish them away or keep kids away from them, but you can minimize their impact on your children. The first step is to understand what you are up against.
The consequences of too much screen time
According to the U.S. Centers for Disease Control and Prevention, an average child spends about 8 hours a day watching electronic screens. Gadget use among kids increases with age. Although it cannot be said with certainty, research indicates that children spending too much time staring at screens are at higher risk of long-term vision problems. Apart from televisions and video games, most gadgets came in the last two decades. While the immediate effects on children can be observed, their long-term effects are unknown.
According to researchers, children who spend a lot of time with gadgets are likely to develop temporary myopia (nearsightedness). Fortunately, the effect is transient and the eyes recover a few minutes after they switch to a non-screen activity.
The effect of spending a lot of time watching screens is not limited to the eyes alone. Apart from symptoms like dry eyes, burning sensation, double vision and blurry vision, people also complain of headaches and posture-related problems like neck and back pain. Doctors now call this set of symptoms as "computer vision syndrome".
When people use electronic screens, they blink less. On an average, a person blinks about 15 times in a minute. Due to the high attention required while using an electronic screen, this rate can drop to less than 5 times in a minute.
Blinking is a natural mechanism that keeps the eyes moist, lubricated and clean. A lower blink rate causes