Recipe: How To Prepare Ga Kenkey At Home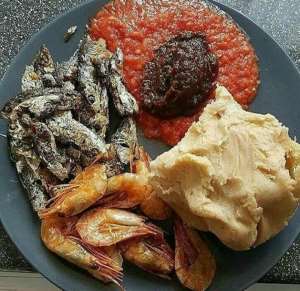 Photo credit - African Girls Killing It
Traditionally Ga kenkey is wrapped in dried corn husks, which are available where Latin ingredients are sold. Ghanaians abroad often substitute aluminum foil (and also use plastic wrap now, too) but in my opinion, though convenient, this is a mistake unless you have no other option.
The foil does not allow the balls to steam in properly, and also you lose the wonderful delicate flavor of the corn husks. Plus I worry about the transfer of unwanted materials from the foil or plastic into the dough itself.
Before preparing the dough for steaming, put corn husks in a bowl of warm water to soften for about half an hour or until they are pliable, pushing them under the water to make sure they are covered. You'll probably need 2-4 husks for each ball of kenkey. The 3 cups of corn .
flour used to make the dough should form 3 or 4 good-sized balls. To prepare the kenkey, first prepare what is known as the "aflata," in which part of the fermented dough is cooked with water, then added to the uncooked part of the dough before being formed into balls and steamed or boiled.
To make the aflata, first mix 2 cups of water in a 3-quart saucepan with a teaspoon of salt (or less) and half of the dough, then cook the mixture over medium heat for about 10 minutes, stirring constantly with a heavy wooden spoon or paddle, being careful not to scorch or burn it. The dough will thicken in about 5 minutes, and by 10 minutes will be quite thick. If it gets too thick and hard to stir, you can add a little water around the outside of the pan to warm, and then stir it in to the dough.
Remove the pan from the heat and stir in the uncooked portion of the corn dough, mixing them together well. To make the balls, Ghanaians would just hold the dough (about 1/3 or 1/4 of it) in one hand and expertly shape it into a ball by repeatedly tossing it up a little and turning it. For Americans like me, it's easier and safer to wet one's hands and use both of them to shape the ball, then place it on top of a good-sized corn husk, which should be softened by now (take one with no tears or holes in it) with the "fat" end facing the bottom.
Still holding the ball of kenkey and corn husk in one hand, place another corn husk over the uncovered part of the kenkey ball, making sure that it overlaps at least 1/4 " over the previous husk. Repeat the process if necessary until the ball is covered. Twist the narrow ends (at the top) of the corn husks together tightly and poke a hole in the topside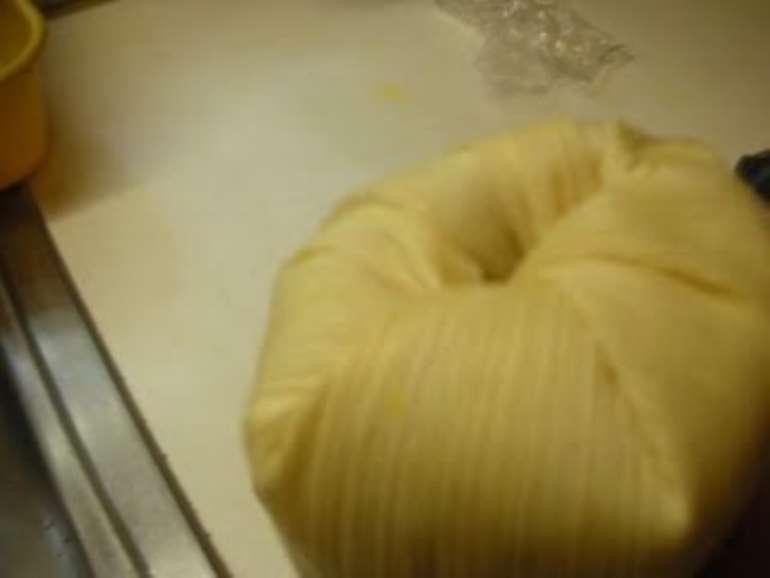 of the dough by pushing the corn husks apart at a place where they overlap), and push the twisted end into the ball of kenkey and cover it with the soft dough, then slide the corn husks back to the overlapped position. Do the same thing for the other end (this is trickier because the husks are thicker). My original 3 cups of cornmeal made 3 balls of kenkey. In Pennsylvania I simply put a steamer insert into a stainless steel pot with water and place the balls on top and steam them for about an hour, adding a little water as necessary.

In Ghana I was actually taught to put corn husks in the bottom of the pot and fill it with water, then boil the balls for a couple of hours, but I find steaming works fine for me. When removing the balls from the pot (it usually takes mine a good hour), be sure to let them cool slightly before unwrapping them, so as not to burn yourself. They are best warm, but can be stored in the refrigerator or frozen and thawed. Classic accompaniments for kenkey include seasoned fried fish ( "kenan" or "kyenam," a recipe for another day), a fresh hot pepper sauce (also for another day) or the classic "shito" (coming up later, too). Kenkey and a stew or fried fish and pepper sauce is a great meal to eat with your hands, but kenkey is also often served sliced as a side starch.

Photo credit - Betumi.com