Mehfil-e-Sufiana at IMT Hyderabad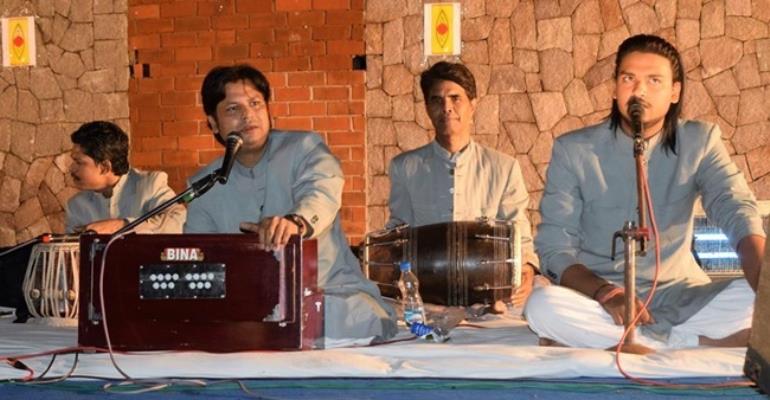 Institute of Management Technology, Hyderabad witnessed the live music performance of Sufi Qawwali by the legendary "Warsi Brothers" on 27th September, 2016. Along with Spic-Macay the musical extravaganza was organised by "Antragna- the Cultural Club" of IMT, Hyderabad.
Warsi brothers performed at the open air amphitheatre in the lush green campus and started off the musical evening with their popular "Alla hoo Alla hoo" fascinating the entire crowd starting from the word 'Go' and setting the mood for the evening. They followed it up with hypnotic" Harmaihar ko Dekha Dekha and Khwaja Mere Khwaja". Requests started flowing in by then, from the euphoric student community and popular Bollywood numbers like "Kun Faaya Kun" from the film Rockstar, and Charta Suraj from Great Qawwali by Aziz Naza were taken up by the Warsi brothers without any qualms.
The songs which constitute the Qawwali repertoire are primarily in Urdu and Punjabi Originally performed mainly at Sufi shrines or dargahs throughout South Asia, off late has carved its niche as a genre and has gained mainstream popularity.
The Warsi Brothers renowned for their traditional Sufiana Qawwali, Ghazal, Thumri, Bhajan and Classical Bandish, are based out of Hyderabad and bring with them a legacy of intense performances through classically inspired melodies. They are the music bearers of the Gayeki of Dilli Gharana and are noted for their melody and improvisation. The group was led by Nazeer Ahmed Warsi and Naseer Ahmed Warsi along with their sons Azeez and Murtuza Warsi and accompanied by the ever energetic Jabbar on the Tabla and Habeeb on the Dholak. The claps, beats and on the spot improvisations done made the crowd go wild.
The final rendering of "Damadam Mast Kalandar" original song of Runa Laila, followed by a jugalbandi between tab list and the dholakat the end, made the evening to be atruly ethereal experience, not to be easily forgotten.
The event was organized in collaboration by SPIC MACAY. SPIC MACAY (Society for the Promotion of Indian Classical Music and Culture Amongst Youth) is a non-political, nationwide, voluntary movement founded in 1977 by Dr. Kiran Seth, Professor-Emeritus at IIT-Delhi who was awarded the 'Padma Shri' for his contribution to the arts in 2009.
"Going by the spirit of SPICMACAY's the objective was to enrich the quality of formal education by increasing awareness about different cultural aspects of Indian heritage and to imbibe the values embedded in it. It is a heterogeneous campus with students coming in from across the country, cultural diversity, values and wisdom embodied in these form of arts will influence their way of life and thinking and inspire them to become a better human being along with being a business professional", said Dr. Satish Ailawadi, Director at IMT Hyderabad who was present at the event along with a few faculty members dressed in traditional attires. IMT Hyderabad has been recently awarded – 'Best Upcoming B-School in South India'.