What App can help you find your way when lost? FaMeKo App!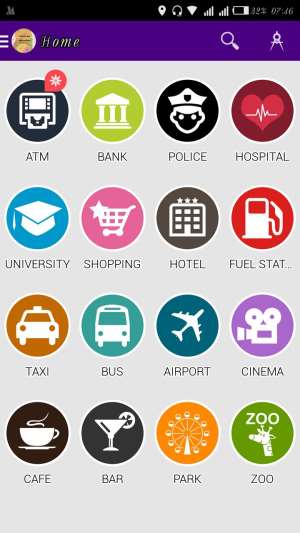 The advent of smartphone and technology has made life very simple. Now its very unlikely for someone to get lost and be miserable unless of course you got low battery and your phone is off
So most people will turn to google maps for directions. Well that's cool but unfortunately google maps can be quite cumbersome to use for some or should I say ,most people. So in my search, I came acrosfameko app... Very simple and awesome app available on google play store.
Its One App for all your navigation needs. Fameko App is free and works by searching local businesses, banks, ATM's, Bus Stops, Hospitals. Fameko App gives an edge in finding the most wonderful places surrounding you with a beautiful user interface. In details, such an application will provide you with all the available places near you with detailed information.
Also Fameko App acts as a great navigation tool by which you can find your way in a strange city or location. Especially it will be easier for you to find your wanted place thanks to the direction tool.
Let's study what benefits Fameko App will bring you:
• You can easily find nearby clubs, hospitals, hotels, café, bars, banks, etc or any place you desire to look for
• Each location is attached with full details including address, images, rating, phone number, map direction, user review and distance from the place you are currently standing at.
• A great map direction tool with estimated time and distance is available to direct you how to reach your selected destination through streets. In other words, you will never worry to be lost in an unfamiliar location.
• The results may be sorted by distance or rating.
• All search results can be demonstrated in map.
• You can add any location to your Favorite list.
• You will be attracted by a nice-looking icon system.
• Google Voice is also available to support you in finding your places easier.
Download https://play.google.com/store/apps/details?id=com.fameko.app or better still search for fameko app on the google playstore