Spine Ailments Can Be Troublesome – When To Consider A Spine Surgery?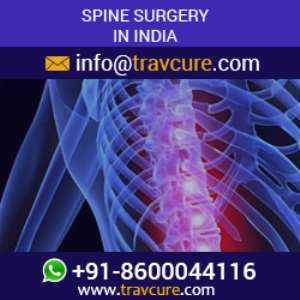 Several conditions, illnesses, or injuries can cause problems with your spine. 80% of the people worldwide witness back pain sometime or the other during their lifetime. The spine is connected to various muscle groups inside the body, and because of this, just about any part of the body may be affected by spinal ailments. Even minor complications with your spine can have a major effect on your quality of life. If your spinal complications are mostly bad, you may require surgery to correct them.Spine Surgery is an advanced surgical procedure used for neck or back pains occurring due to injuries or traumas that causeany kind of deformity in the spinal column.
When Should You Consider Surgery?
There are certain risks associated with Spine surgery. You should only consider a Spine surgery when its benefits are greater than the risks involved. In patients with severe damage to the spine, surgery may be the best or even the only realistic option for recovery.
Sings To Check Before You Go For ASpine Surgery
You cannot function properly.
Quality of life is affected.
Other treatments have failed.
In cases of severe Injury/accident/trauma
Your Spine condition is worsening day by day.
Some spinal deformities can be rectified through certain Spine surgeries.
What Are The Types Of Spine Surgery Procedures?
Discectomy or Microdiscectomy - Removal of a herniated intervertebral disc.
Laminectomy: Removal of the thin bony plate on the back of the vertebra called the laminae to increase space inside the spinal canal and release pressure.
Laminotomy - Removal of a portion of the vertebral arch called lamina that covers the spinal cord.
Foraminotomy - Removal of bone or tissue called the neuroforamen.
Disc replacement – In this procedure, the injured disc is replaced with an artificial one.
Spinal fusion: A surgical procedure used to join two vertebrae with bone grafts with or without rods, screws.
Anterior Lumbar Interbody Fusion
Posterior Lumbar Interbody Fusion
Transforaminal Lumbar Interbody Fusion
Lateral Interbody Fusion
What You Should Expect After Spine Surgery?
Patients who want to return to routine work and normal daily activities, as well as the elderly personsor those with major spinal ailments, often achieve a higher level of function once signs of pain are alleviated.
You may have any kind of Spine ailmentthat mayrequire a Spine Surgery. India is a booming medical tourism destination and offers a variety of options for medical patients from across the globe seeking Spine Surgery for various Spine ailments.Travcure Medical Tourism are the well-known consultants who will find the best Spine surgeon, best hospital and the best medical package for you. International patients are regularly travelling to India for many Spine disorders and related surgical procedures. Travcure will help you in getting the best treatments at affordable costs compared to other countries.
Get in touch with us!!!!
Email: [email protected]
Phone: +918600044116
Click HERE to visit our website for more information - https://travcure.com/spine-surgery-india/