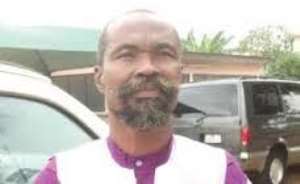 A Kumasi based man of God is going to be the most sort after prophet after the Ghana/Portugal World Cup groups' match today should his precise prophesy come to pass. The cool and humble but confident prophet whose name is "ADOM" KYEI-DUAH, is gradually changing the way many Ghanaians look at prophecies. His prophecy is that Ghana will scale this the group stages with 4 points. The reality is that Ghana has only 1 point after drawing with the powerful technically endowed German team last week. In their group of death, the other two teams , Germany plays USA and both teams just need a draw to qualify for the group of 16. The fear and tension in Ghanaians is that the USA and Germany would play a match of convenience so that they can squeeze the troublesome and experienced Ghana team out. Can this happen at the World Cup stage? Harboring such fears and tensions, Ghanaians have been called upon to rest assured that at the end of the match, the Black Stars would scale through, the man of God, Prophet Adom made the pronouncement yesterday during his weekly Wednesday prophetic service at his church grounds at Kumasi, the Ashanti regional capital.
Prophet Adom's many prophecies on sports activities involving Ghana's national team as well as annual predictions for the year dates back to 2011 but nobody paid him any attention except few followers who shared his videos among friends. His latest sports prophecies on the fate of Ghana's Black Stars went viral on Facebook when two of his predictions came to pass in a precise manner. In the videos, one which was made in 2013 during the New Year eve, he made a sports prediction about Ghana at the world cup. Then the last Wednesday before the Ghana/USA match he told his congregation that "ennko yie" Literally It is not going well for the Black Stars. He went on to say that notwithstanding that results, the Black Stars will move on by drawing and winning. Well, we drew with Germany. An interesting thing about his prophecy is that he is very precise: For example in his prediction for the Ghana/Germany game, he said in the video, if Ghana scores, Germany will score, if Germany Plays football, Ghana will also play football.....and we all saw the game and the result which was 2-2.
Well before I go on to what he actually said about today's game, I will like to answer some interesting question about who PROPHET ADOM is.
Prophet Adom is a Asiakwa native and born STEPHEN KYEI-DUAH. After his elementary education at Akosombo in 1980, he became an apprenticed mechanic for few years before he joined the hustling wagon to the then economically booming nation of Nigeria. After some years, he had the calling of God to do his service. He started the Believers Evangelical group which took him to places including Benin before he returned to Ghana. When in Ghana, he attempted starting a church in his own home but many challenges threw him off and he moved to the Central regional capital town of Cape Coast.
From Cape Coast, he travelled to Ivory Coast. After just a year and few months, he had a prophecy to leave because according to him the country would plunge unto civil war from 2000 and it would last for 15 years. So obeying the super voice that he heard, he returned to Ghana and settled at the mining town of Obuasi where he established the ADOM Prayer Camp. He had his last call to relocate the church to Kumasi Kenyasi area called TEACHER Nkwanta where he now have the church.
Yes, this is the man with a humble beginning but we are with authority in confidence to also predict that this man will be the most sort after prophet after the world and we even predict that TB Joshua will like to read about him.
For the match today, here is a link to what he said:
https://www.youtube.com/watch?v=N2Z_mboMd_0