BISHWAJIT'S ((বিশ্বজিৎ) Life in the Street of Bangla!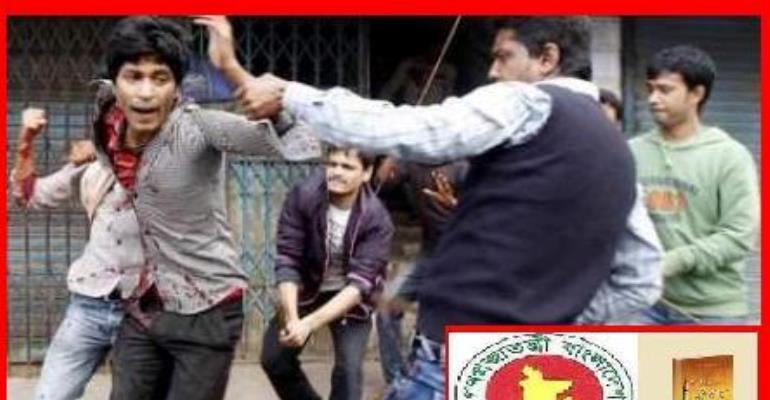 BISHWAJIT'S ((বিশ্বজিৎ) Life in the Street of Bangla!
"…BISHWAJIT'S is indeed my name your honour!
I was unfortunates born in the holy soil of Bangla
By cast Hindu was my religion but I was not out cast Sir!
My best friends are known Bengali since I was born
Muslims brothers and sisters in Bangla
I was proud of myself associate with!
My breath of fresh air I lost reason my self not known why?
I never was associated with any political party nor
Was I ever against the authority of the states!
Similar incidents was against author Abdul Haye Amin
In the street of Dacca, Gulshan in the year 1996
Attempt to assassinate by Gulshan police authority but was failure!
In the name of Lord in the street.
Indeed I was most dear and near of all out of
Bengali brothers and sisters in Bangladesh.
My religion nor cast was ever disappointed by
I was proud of born in Bangla soil
I don't know the reason why I was attack by?
Killing a person for no reason in the street of any domiciles
It's crime against humanity says your Prophet Mohammad-(Saw).
My priceless split of blood in the street of Bangla
December nine (9) was the dates 2012
I lost the price of my own blood your honour!
How much will it cost my blood in the Dacca stock exchange.?
My generation was born in the loving states my language was Bangla too
I was proud today to split my blood in the name of domiciles I was born!
I leave my beloved foreign brothers and sisters in Bangla
To weight the price of my blood
In the name of your own Lord?
"La-He-La-Ha-Hil-Lal-La-Hu"
What was my crime of offenses to you all?
Justice see no colour of origin or by cast to judge others in society,
Wake up Bangla it's your pride and joy to liberates from corruptions.
Where there is civilized nation in the street hurt no one in life
Within love, peace and humanity
daylight in the street with touch lights (Lamton) on to see the path of my way!
I didn't know I was born blind in the street of Bangla,
As former British Home Office, David Blunkett, M.P.
Today you going to decide how much it cost my life in Bangla
The almighty precious gifts of all given to share passion of human being love
To share his beloved Kingdom in the name of own Lord?
Forgive me my beloved friends in Bangla,
those who most friendship I ever build in my life
Without my generation of identities in the street of Dacca
Day of judgement I shall search for none but my friends for you all
To share happiness we dream in Bangla once again in the street.
I knew no one will ever do justice but play my life with politics only to see injustice for
To gain immoral political interest wages of sinful desire of all nature!
and illegitimate criminal activity in Bangladesh to gain name and fame
to destroy name and reference by mean of good deed I ever was born to share!
My crime was I fall in love with Bangla therefore I was there
To portray my name to establish the truth in the soil of Lord
Almost 42 years old Bangla given birth O' my Lord, 'Ram' 'Ram'
Not computer memory 'Ram' but my God please guide Bangla within
true path of journey restore Bangladesh from corruption.
I knew no one else ever can restore Bangla but you my dear Lord (Allah),
I fears with doubt my friends take care of yourself alone in the street of politic
Take (lamton) in day light touch lights to see your own path
in the street of Bangladesh or
Ask David Blunkett, M.P. how to walk safety in the street of Bangla?
Without guiding dogs or lamton.
Never leave your parents cry for your welfare rights and life
Don't leave any doubt for them to think? days and nights for
will my son or daughter ever will return safe a life home?
Keep my split of blood news in secret from your own blood
My families may think I became
Prime Minister of Bangladesh
If it not day of Judgments
When I never return home to says
'Mummy' or 'Daddy' ever again in life.
I was born unfortunates clown in the street of Bangla
My mother or father never going to see my face alive ever again
Prime Minister what was my crime?
Since birth of Bangla
'Bongo Bandhu' 'Bango Bandhu'
Instead of "Allahu Akbar" every one lips!
Where is ordinary public moral identities in the street of Bangla
Where is our dignity and hour in the name of justice?
How many years gone by since birth of Bangla
those who given precious life for independent.
Does Bangla never wish to see joy of happiness of all creature on earth!
What is mean by 'Joy Bangla?'
Those who ever told 'Sunnar Bangla' may never return for
Glory of Bangla face to see far as sun ever shine in the morning as star?
Environment in Bangla lost their own identities since birth 1971
And never can secure Bangla under the corruption of Governments
Our future children's life beyond human imagination indeed.
Every fathers and mothers fear of their own children's in the street of Bangla.
Myself proud to split blood in the name of Bangla and my life
In the name of a country for Desh which is Bangladesh
I knew nation will surprise in my name place under the criminal list
I ever was born as a Hindu religion By cast!
Remember soil accept nor judge any religion or cast
those who walk in the street with three pieces suit and ties on
Think not once but twice without traditional dress in Bangla but
Judge their characteristics by mean of crime in the future
they ever committed in life in the street To kill others.
Congratulation My priceless blood remain with those who Bangladeshi
Government officers governing the states to secure your own blood
From tragedy in the near future many years to come!
My colour of blood can no one compare but yours
Rose red as my national flag in Bangla
Hindu blood today is in the street of Bangladesh
red as my own heart remain as a gifts from Lord to share by.
Sorry my Lord should I ever
offend any one beyond my knowledge in culture!
My life was as a gifts from you no one to blame but
My generations of families and friends must accept by any mean
I was created with ocean of sorrow in this world that way only for.
Tributes My Bengali Brothers and Sisters will indeed share my spilt colour of blood
Instead of any foreign beauty make up for their own model in life
To remind I was not different from your own DNA blood group? But
Red as lipstick seen with Begum Hasina Prime Minister of Bangladesh
on her lips in the street of Dacca day of tragedy.
My Lord I leave symbol of Hindu Love for Begum Hasina in Bangla
University graduates officials to advocates the domiciles in love
In future never should happen to my Brothers and Sisters in Bangla.
To restore country with ocean of love and peace within multicultural society
As often seen 'Oceans of Sea' harms no one nor grief for those who over the water with boats
Almighty Lord (Allah/Ram/God/Dues) pleasure on earth whom he may choose to please
the nation with my split of colour of Hindu blood in the street of Bangla?"
…By Bilingual Author Abdul Haye Amin.
REF:DK: 4078-71-83-3GB: 22/10/2006:
http://abdulhaye300503.wordpress.com/about/