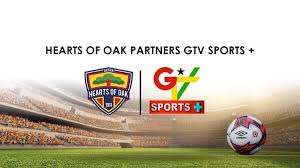 Managing Director for Accra Hearts of Oak, Frederick Moore has given an insight into the club's recently signed partnership agreement with GTV Sports Plus.
The club officially signed the agreement with the Ghana Broadcasting Corporation (GBC) television station on May 1, 2020, following successful negotiations.
In the deal, GTV Sports Plus will have exclusive content from the Phobians and will in turn broadcast to further promote the club.
It is understood that GTV Sports Plus will cover 3 training sessions in a week and will also televise documentaries on the club.
Shedding light on the agreement, Frederick Moore says Hearst of Oak will earn money through sponsorships on programs on the club that will be run by GTV Sports Plus.
"I know that in the last week, there was a lot of debate about whether there was any money involved in the GTV deal.
"If we had done it on our own without GTV Sports as partners, it would have cost us a lot of money so we are saving a huge amount of resources so we can concentrate the resources in other areas.
"It involves a revenue share of all the sponsors and marketing on the program, so it's not totally without money and it's not a sponsorship but partnership with a good share of the money", Mr. Moore explained while speaking to Oyerepa FM.