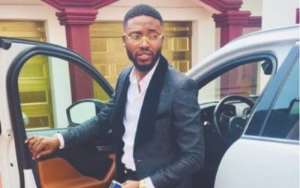 New Ashgold CEO Emmanuel Frimpong
Newly appointed Chief Executive Officer (CEO) for Obuasi Ashanti Gold, Emmanuel Frimpong is calling on supporters of the club to help him make the club great in Africa.
The 27-year-old was appointed as the new CEO of the club by his father and President of the club, Dr. Kwaku Frimpong last week as he replaced Frederick Acheampong.
Now ready to bring success to the club, Emmanuel Frimpong says he can only do so with the support from supporters.
"With me, I always do have a good relationship with all the supporters. They can all testify to that. I do have a good relationship with them and am going to be working with them as a family"
"It is not going to be just me and my management or me and champ. It is going to be a general thing where the supporters, the management, and everyone is going to be working together so we are going to work as one big family
"I just want to say a big thank you to all of them and I need their support. They should support me with all they can so that we can make Ashanti Gold one of the biggest clubs in Africa", Emmanuel Frimpong told Kumasi FM.
Nicknamed the Miners, Ashanti Gold is one of the biggest clubs in Ghana. Though they are yet to win any of the inter-club competitions, they do well whenever they qualify to compete with the best from the continent.