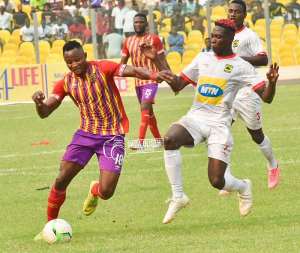 Former Black Stars captain, Joe Addo says the Ghana Football Association (GFA) must be allowed to decide the fate of the 2019/2020 season as he advises that health must be prioritized.
The football season in the West African country was put on hold back in March following the announcement from the government that all public gatherings including sporting activities had been suspended as a safety measure against the Coronavirus (Covid-19) disease.
Two months later, the Covid-19 crisis has worsened with the number of confirmed cases currently standing at 2,169.
Taking the surge in cases into consideration, there are growing calls for the 2019/2020 Ghanaian football season to be canceled and started afresh when it is safe to do so.
Speaking on the issue in an interview with Joy FM on Saturday, former Hearts of Oak center-back Joe Addo says the Ghana FA must be allowed to decide on what happens even though he insists he wants health to be prioritized above anything else.
"Also, you can't also say we have to play because we have the coronavirus going on. We have to leave the FA to make the decision but I personally think that health is more important than entertainment", he shared.
Joe Addo further lamented on how the situation is going to have a toll of football administrator in the country.
"It is a double-edged sword. It will affect the club owners. I didn't really care about the club owners until I became a football administrator. They spend a lot of money and you can't just tell them to cancel the league".
Meanwhile, CAF has given the GFA up to May 5, 2020, to inform them of what will happen to the season amidst the Covid-19.