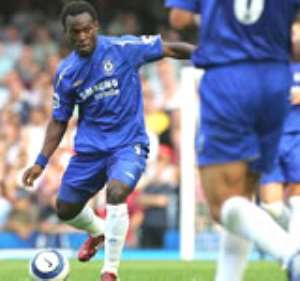 Ghana's Michael Essien insists he been unfairly labelled a 'dirty' player by the English press.
The Ghana star enjoyed a successful inaugural campaign with Chelsea and helped them to The Premiership title.
However, on more than one occasion Essien was accused of producing some over zealous challenges during the campaign, particularly on Dietmar Hamann and Tal Ben Haim.
Essien, though, insists that he is in no way as aggressive as some people think he is.
"Honestly, I never really had discipline problems before I came to this country," he said.
"I had never been sent off with a straight red card. Then everyone was saying I am a dirty player. I was bought to be strong, to win the ball in midfield.
"But English football is very fast and, when that happens, you make decisions and sometimes you catch opponents.
"You have to be strong in modern football but I would never go out to hurt anyone."
Essien, currently preparing with Ghana ahead of their debut World Cup appearance, also confirmed that he almost joined Manchester United as a teenager.
"I spent a week at United when I was 16," Essien said.
"I was offered the chance to go to Belgium [to Royal Antwerp, United's feeder club] but we couldn't finalise an agreement.
"I met the first team players and Sir Alex Ferguson but I didn't really speak to them because I am a very shy person. I think they tried to get me again when Chelsea bought me."
Looking ahead to Germany, Essien admits that he cannot seen any of the African nations competing at the World Cup - winning this summer's tournament.
"Maybe one day, it can happen but I am not sure now," he said.
"Maybe the quarter finals only. I would say the Ivory Coast have the best chance because they are well organised and have some big players who have done well at top clubs.
"But, like us, they don't have an easy group. For us, qualifying is a great achievement."