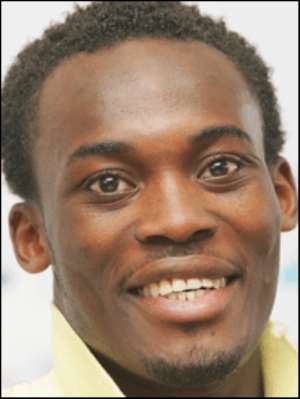 SOFTLY SPOKEN AND ALMOST painfully shy, Michael Essien is not easily recognisable as the man who was called a thug, and worse, during his first season at Chelsea. The Ghana international, whose country face a daunting challenge at the World Cup finals, claims that he does not even recognise himself from the outraged headlines.
He is not going to dispute that he loves a 50-50 challenge and a list of the players he looks up to — Patrick Vieira, Roy Keane, Edgar Davids and Claude Makelele — tells you everything about the robust nature of his game. He also adds that he loved Eric Cantona "for his aggression" but is adamant that he has been unfairly maligned.
"Honestly, I never really had discipline problems before I came to this country," he said. "I had never been sent off with a straight red card. Then everyone was saying I am a dirty player. I was bought to be strong, to win the ball in midfield. But English football is very fast and, when that happens, you make decisions and sometimes you catch opponents."
His disciplinary record backs up his argument because although late lunges on Tal Ben-Haim and Dietmar Hamann brought plenty of recriminations — and the latter prompted a two-match ban from Uefa — Essien was booked only five times in the Premiership.
And his award as the player's player of the year in his last season at Lyons supports his assertion that he was renowned as hard but fair during his two successful campaigns with the French club. "You have to be strong in modern football but I would never go out to hurt anyone," he said. "I didn't mean to do anything like that, it is not my game. It was an accident and I think it is finished now, I certainly hope so."
As well as the close scrutiny of his tackles, Essien, 23, has had to withstand questions about his worth after his £24.4 million transfer last summer. The fee was inflated — it usually is when Chelsea are buying — but a third consecutive championship medal shows that he must be doing something right.
Manchester United would certainly have loved him to bolster their midfield and they must have regretted their failure to tie him down when he came for a trial. "I spent a week at United when I was 16," Essien said. "I was offered the chance to go to Belgium [to Royal Antwerp, the United feeder club] but we couldn't finalise an agreement. I met the first- team players and Sir Alex Ferguson but I didn't really speak to them because I am a very shy person. I think they tried to get me again when Chelsea bought me."
The arrival of Michael Ballack has raised fresh questions about how much Chelsea need Essien, but having given him a five-year contract, José Mourinho is sure to find a use for him. He may find himself taking some of the burden off the 33-year-old Makelele.
No doubt Mourinho will be watching his performances in Germany, where Ghana's Black Stars face the Czech Republic, the United States and Italy in group E. It is Ghana's first World Cup and qualification has helped to make Essien a big star back in Accra, the capital, where he was raised with four older sisters. "I was the little one and the only boy so that makes you tough," he said. He had minimal contact with his father, a low-level footballer, but is in daily contact with his mother. "I grew up with my mum in a very small village close to Accra," he said. "I speak to her all the time.
"In Europe at the age of 10 you already have organised coaching but in Africa you just have the ball. Maybe it makes us tougher. I used to play with the big guys, getting kicked around. You had to fight for yourself and I was very small then. Now some of the European clubs start to build academies in Ghana but it wasn't like that. We have the talent in Africa but we often don't have people to help you, to push you up. I was one of the lucky ones."
There is an expectation that an Africa nation will win the World Cup one day, but Essien cannot see it happening this summer when four out of five representatives — Ghana, Angola, Togo and the Ivory Coast — are making their tournament debuts. "Maybe one day, it can happen but I am not sure now," he said. "Maybe the quarter-finals only. I would say the Ivory Coast have the best chance because they are well organised and have some big players who have done well at top clubs. But, like us, they don't have an easy group. For us, qualifying is a great achievement."