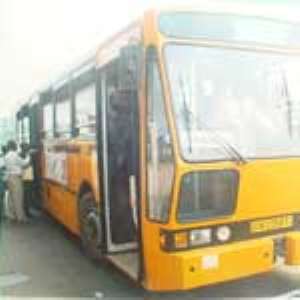 Vice President Alhaji Aliu Mahama at the weekend pledged government's commitment to fulfil its political manifesto to provide affordable Metro Mass Transport services to every district capital to mitigate the effect of high prices of petroleum product on the citizenry.

He said the vision of the Government was to cushion the impact of high prices of crude oil on the ordinary Ghanaian as a means of alleviating poverty.
Vice President Mahama made the pledge when he inaugurated six Metro Mass Transit buses in Bolgatanga in the Upper East Region to link the region with five districts, namely: Sandema, Navrongo, Bongo, Bawku and Tongo as well as Walewale in the Northern Region.
"To support the pocket of people, the Metro Mass Transit buses charge fares which are far lower than other means of transport. School children will also use the bus free of charge," he said. He said poverty reduction was about the provision of necessities of life at affordable cost and not just about putting money in people's pocket.
Vice President Mahama tasked the drivers to cultivate good customer service and ensure regular maintenance of the buses to prolong their life span. "I also want to urge the private sector operators to take the competition in good faith. They must use the opportunity to re-organize themselves and make their operations more efficient".
The Metro Mass Transport Service, which has offered employment to 40 people, would charge between three thousand and 10 thousand cedis to various destinations.
Mr. Boniface Gambilla, the Regional Minister, said the services of the Metro Mass Transport was testimony to the fact that the divestiture of State owned enterprises, including the defunct Omnibus Services Authority by the previous administration was wrong.
Mr Cas van Eerden, Managing Director of the Company, said management was importing 90 buses by the end of the year, 63 in 2007, while 150 buses are being manufactured locally. He said the six buses were purchased at the cost of 108 million Euros.
Mr Eerden indicated that the staff strength of the company had increased from 600 in 2005 to 2,023 this year. The MD announced that the Metro Mass Transport Services would be extended to Oda, Techiman and Denu District Capitals by the end of the year.