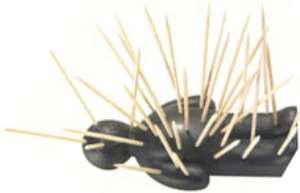 Dried, crushed animal parts are not yet outlawed as performance-enhancing substances in the sporting world.
But if voodoo priests in Togo work their charms on their nation's maiden World Cup campaign, they may soon be.
Togo will go to the World Cup as debutants - and the 'Sparrowhawks' have been promised extra help in their bid to soar past their opponents by the numerous priests and millions of followers of voodoo.
Togo's first round elimination from the African Nations Cup in Egypt left a black mark which the tiny African country's voodoo priests are out to avenge.
"We were not at all happy with the Sparrowhawks at the African Nations Cup, that's why we're getting ready to accompany the team on its World Cup travels," said Togbui Gnagblondjro III, the presiding chief of Togo's voodoo priests.
"As we speak, all our magic charms are being prepared to make sure we perform better at the World Cup.
"We will watch over the Sparrowhawks and make sure they go far in the competition."
Popular perception of the religion evokes ritual dances, voodoo dolls, sacrifices and the use of amulets and animal body parts - all in the hope that mystical deities will intervene to achieve a certain result.
In some parts of Africa the use of voodoo under its various guises is widely recognised as influential, a fact the African Football Confederation (CAF) has in the past attempted to eradicate.
Despite CAF's efforts, fans across the continent believe the strategic placing or use of charms and fetishes can have devastating effects.
At the 2000 African Nations Cup quarter-final between Nigeria and Senegal, a former official with the Nigerian Football Association was banned after he had run on to the pitch to remove a 'charm' that was lying in the Senegal net.
Senegal had been leading 1-0 with 15 minutes to play, and following a fruitless protest by the leaders Nigeria went on to score twice and win.
That, and similar incidents are unlikely at the World Cup where Togo will face South Korea, France and Switzerland in Group G.
However, a significant 50 percent of Togo's five million population - who are estimated to believe in and practice voodoo - could be involved in a long-distance attempt to help the Sparrowhawks.
Togbui Gnagblondjro III and his followers have recently increased their prayer meetings with eating, dancing and calling on the numerous deities for spiritual intervention.
"We've decided to travel spiritually with Togo because the World Cup is a big competition and we do not want any more bad results," said one voodoo follower at the session here in Vogan, 100 km north of the capital Lome.
"We're in Africa, and will show the rest of the world the power of our prayers and our charms."
A Togo federation official admits they have little power in stopping popular beliefs.
"We're a secular state," he said. "But while the people with other religious beliefs pray for the Sparrowhawks in their own way, we can't prevent the followers of voodoo from doing the same."