Covid-19: Ghana FA To Benefit $500,000 From FIFA's Stimulus Package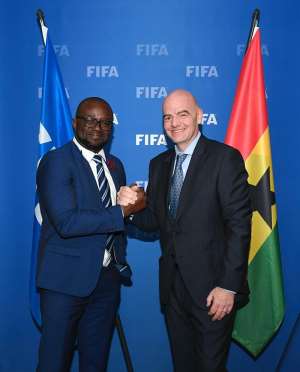 The Ghana Football Association (GFA) stands to benefit $500,000 from the stimulus package set to be distributed by the Federation of International Football Association (FIFA) to its member associations.
This is a move by the world football governing body to supports its members to survive the difficult period presented by the Coronavirus (Covid-19) pandemic.
According to FIFA, it is its duty to provide relief for its member association at a time where a global pandemic has presented them into a very mean financial challenge.
"The pandemic has caused unprecedented challenges for the entire football community and, as the world governing body, it is FIFA's duty to be there and support the ones that are facing acute needs.
"This starts by providing immediate financial assistance to our member associations, many of which are experiencing severe financial distress", a statement from FIFA president Gianni Infantino said.
He adds, "This is the first step of a far-reaching financial relief plan we [FIFA] are developing to respond to the emergency across the whole football community. Together with our stakeholders, we are we assessing the losses and we are working on the most appropriate and effective tools to implement the other stages of this relief plan".
FIFA will distribute $150 million among its 211 member associations with the Ghana FA expected to receive a share of $500,000.
Eric Nana Yaw Kwafo
Journalist