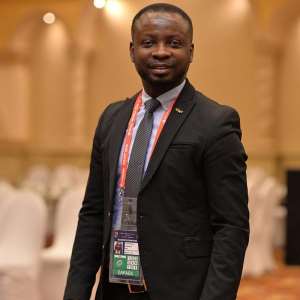 Nana Achiken, a minority shareholder at Obuasi Ashanti Gold has indicated that the resignation of Frederick Acheampong as the club's Chief Executive Officer (CEO) will not have any blowbacks.
Popularly referred to as Fred Ache, the football administrator took to his Twitter page to announce his resignation as the CEO of the club while indicating that he will officially step down at the end of the month.
"End of a golden road. I have tendered in my resignation as C.E.O. of Ashanti Gold SC effective 30th April 2020.
"I have grown and learned immensely at the club but it's time to move on for personal reasons. Thanks, Champion, the club and supporters for the opportunity", Frederick Acheampong's post said.
Speaking to Sikka FM today, Nana Achiken has disclosed that the departure of the vibrant football administrator will not have any effect on Ashanti Gold because he does not pump money into the club.
"Frederick Acheampong's resignation will not affect Ashanti Gold SC, he is not the financier of the club", the minority shareholder of the club shared.
Meanwhile, there are growing speculations that Fred Acheampong could be handed a managerial role at Asante Kotoko after he parts ways with the Miners.