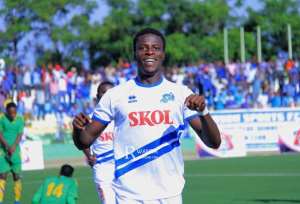 Ghanaian striker Michael Sarpong, who plies his trade at Rayon Fc in Rwanda has debunked claims made by his club that he insulted the club's President, Sadat Munyakazi.
According to Michael, the club's president had told the media that the players have agreed to take a pay cut when nothing of that sort has been discussed or communicated to them.
"They owe me three months of salaries, and I have 5 months to finish my contract. The president of the club spoke to the media that, the players have agreed not to take salaries from February and March.
"The media called to confirm the president's claims, and I told them the truth. The president hasn't called me nor texted me in this lockdown period. So I am not aware of any pay cut or whatsoever".
Michael has had his contract with the club terminated after what the club refers to as gross insubordination to the club's presidency.
"Considering that no reason can justify your insults and dishonorable behavior, we are forced to terminate your contract,
"The termination of working relationships on the field without notice or compensation is required and takes immediate effect." a statement from the club.
The former liberty professionals' marksman has reiterated that he was just clearing the air when he was asked of his side of the story, hence his contract termination is harsh and unfair.
" The president said I've shown disrespect and therefore I should write a letter of apology. He sent me a letter in French which I don't speak nor read.
He sent the letter on Tuesday and I haven't been able to reply yet. He has continued to release a statement to the press". said, Michael.
The Ghanaian was the club's top scorer last season when Rayon Fc clinched the title.