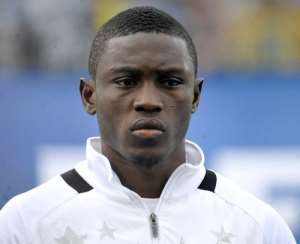 Ghana's forward Abdul Majeed Waris listens on October 15, 2013 to his national anthem prior to the kick off of the Fifa World Cup 2014 qualifying football match Ghana vs Egypt at Baba Yara stadium in Kumasi. AFP PHOTO/STR (Photo credit should read STR/AFP/Getty Images)
Striker Majeed Waris says the Black Stars are failing to win trophy due to the biased and unfair all ups made to the national team.
Ghana has failed to end its 38 years trophyless run since winning the Africa Cup of Nations (Afcon) in 1982 in Libya despite playing in three finals in 1992, 2010 and 2015.
Earlier in the week, midfielder Mubarak Wakaso insisted the senior national team has failed to win trophy due to the partisan politics of the National Democratic Congress (NDC) and the New Patriotic Party (NPP)
The Strasbourg forward who has played 34 times for the national team but has not featured for the team since September 2018 believes the unfair call ups to the team has been the reason for failing to win trophies.
According to him, the biased player selection by national team handlers the cause of Ghana's woes, rather than NDC-NPP politics.
"I saw Wakaso making a comment that politics is affecting the Black Stars. I feel that it is not the political thing that is affecting the performance of the players on the field because politics does not play football", the 28 year old told Saddick Adams Obama on YAC Media on Instagram Live.
"I think with the national team, the politics affect the selection of players.
"With me, they call you from Europe when you're performing and always drop you like a scapegoat for players who do not even play half a season and I'm not going to talk about myself alone.
"I feel the political aspect of player selection is something that is affecting the Black Stars.
"The selection is not based on your performance, it's only based on politics in the team and I think it is something that affects us at tournaments because that's the biggest stage that everyone wants to be part and that's also when the politics get in a lot" Waris concluded.