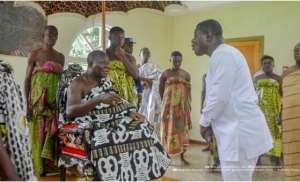 Modernghana Sports can report that Dr. Kwame Kyei's 3-year stay at Kotoko as the club's Executive Chairman is under evaluation by the Asantehene of Asanteman, His Majesty Otumfuo Osei Tutu II.
The business mogul was given the club to run for 3 years in 2017 and has since been calling the shots at one of the biggest clubs in Ghana and Africa as a whole.
His 3-year-mandate ended some months ago but his fate as to whether he has been given additional years has not been clearly stated.
Though he continues as Kotoko's Executive Chairman, there were reports that he will meet the Life Patron of the club soon for discussions.
In a letter from the Manhyia Palace dated, Wednesday, April 22, 2020, the Chief of Staff of the Office of the Asantehene has confirmed that Dr. Kwame Kyei's reign in the last 3 years is being evaluated.
"The Executive Chairman of the club, Dr. Kwame Kyei, has submitted the report of his administration for the three years of his mandate. The report is being evaluated for consideration of His Majesty Otumfuo Osei Tutu II, Asantehene, and an announcement, will be made in due course on the future direction of the club", the letter has noted.
In addition, the Manhyia Palace is calling for all media hostilities against the club and its officials to cease as it damages the integrity of the club.