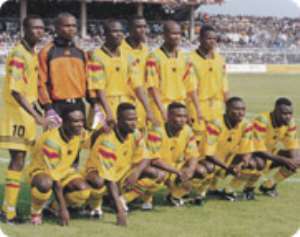 Ghana's squad for the World Cup finals in Germany comprises the following 23 players:
(Statistics up to and including May 24 2006)
GOALKEEPERS
1-Sammy Adjei (Moadan Sport Ashdod, Israel). Born 18.11.1973. Caps: 29 Goals: 0.
First-choice goalkeeper who spent most of his career at Asante Kotoko but recently moved to Israel. Made his debut in a World Cup qualifier against Sudan in 2001.
22-Richard Kingston (Ankaraspor, Turkey). Born 13.6.1978. Caps: 31 Goals: 0
Brought back into the squad after last playing at the start of Ghana's group matches in the World Cup qualifying competition two years ago. Plays in Turkey under the name Farouk Gursoy, given to him when he took out Turkish nationality while on the books of Galatasaray.
16-George Owu (AshantiGold). Born 7.7.1982. Caps: 6 Goals: 0
Back-up keeper for the national team whose debut for Ghana's side coincided with the start of the long road to the finals in Germany. Plays for the club formerly known as Obuasi Goldfields.
DEFENDERS
18-Eric Addo (PSV Eindhoven, Netherlands). Born 12.11.1978. Caps: 3 Goals: 0
Made his first international appearance eight years ago at the African Nations Cup finals as a teenage prodigy from Belgium's Club Brugge. Moved to the Netherlands in 1999 but his career at PSV had been a long litany of injury and missed chances until he burst back into the limelight earlier this year.
23-Gabriel Issah Ahmed (Randers, Denmark). Born 24.5.1982. Caps: 10 Goals; 0
Appeared in the last four qualifiers for Ghana. Captain of Asante Kotoko, who won the Ghana premier league in 2005, and chosen MVP of the league, before moving to Denmark in February.
7-Shilla Illiasu (Asante Kotoko). Born 20.6.1983: Caps: 0 Goals: 0
Helped his club into the last eight of this year's African Champions League, having joined at the start of the year from cross-town rivals King Faisal Babes where he had been club captain.
5-John Mensah (Stade Rennes, France). Born 26.11.1982. Caps: 30 Goals: 0
Plays at left back or in central defence and moved to Italy after playing in the side that finished runners-up at the 2001 World Youth Championships in Argentina. Loaned in January to French Ligue 1 club Rennes where he has been in splendid form over the last months.
4-Samuel Osei Kuffour (Roma, Italy). Born 3.9.1976. Caps: 56 Goals: 3.
Bundesliga winner with Bayern Munich where his non-nonsense tackling and sometime tearful displays of passion made him a fan favourite. Back in the Ghana side after a series of disciplinary problems with coaches over the years, including being sent home from the 2002 Nations Cup finals in Mali.
13-Habib Mohamed (King Faisal Babes). Born 10.12.1983. Caps: 0 Goals: 0
Surprise selection from the Kumasi-based club, whose inclusion goes some way to deflecting criticism on coach Dujkovic for not picking enough of the Ghana-based players for the squad. Plays at right back where he is likely to be back-up at the World Cup finals.
6-Emmanuel Pappoe (Hapoel Kfar Saba, Israel). Born 3.3.1981. Caps: 25 Goals: 0
Another player capped as a teenager only to go into the wilderness for years before being restored to the side in 2002. Played a regular role in the qualifying campaign.
15-John Paintsil (Hapoel Tel Aviv, Israel). Born 15.6.1981. Caps: 19 Goals: 0
Normally plays at right back but his versatility makes him a strong squad member, having also featured in central defence and at left back for his country. Played briefly in Poland at Widzew Lodz before moving to Israel.
17-Dan Quaye (Hearts of Oak). Born 25.12.1980. Caps: 6 Goals: 0
Brought back into the squad as one of four locally-based players. Won the African Champions League with his club in 2000 and featured in three World Cup qualifiers in 2004.
2-Hans Sarpei (VfL Wolfsburg, Germany). Born 28.6.1976. Caps: 6 Goals: 0
Born in Ghana but grew up in Germany where his previous clubs include MSV Duisburg. Played once for the Black Stars in 2000 before being recalled last year by Ghana's coach Ratomir Dujkovic.
MIDFIELDERS
20-Otto Addo (FC Mainz, Germany). Born 9.6.1975. Caps: 11. Goals: 1
Played for Ghana for the first time in four years in the friendly against Mexico in March. Injury-prone midfielder who has spent most of his life in Germany and played at several Bundesliga clubs.
10-Stephen Appiah (Fenerbahce, Turkey). Born 24.12.1980. Caps: 39 Goals: 10
Inspirational captain whose performances were the catalyst behind Ghana's success in the World Cup qualifiers. Moved to Udinese at the age of 16 and in July signed for Turkey's Fenerbahce after two seasons at Juventus.
9-Derek Boateng (AIK Stockholm, Sweden). Born 2.5.1983. Caps: 10 Goals: 3
Teenage prodigy whose career is back on track in Sweden after going off the rails after a spell at Panathinaikos in Greece. Played for Ghana at the 2002 African Nations Cup finals in Mali after scoring on his debut just one month before.
23-Haminu Dramani (Red Star Belgrade, Serbia and Montenegro). Born 1.4.1986. Caps: 6 Goals: 0
Plays in Serbia for coach Dujkovic's former coach. Expansive left-sided footballer with plenty of pace.
8-Michael Essien (Chelsea, England). Born 3.12.1982. Caps: 14 Goals: 3
Africa's most expensive footballer after his move to the English champions in August. Named as the best player in France last season after helping Olympique Lyonnaise to the French Ligue 1 title.
11-Sulley Ali Muntari (Udinese, Italy). Born 27.8.1984. Caps: 13 Goals: 3
Mercurial midfield talent who has already served one suspension from the national team for disciplinary problems. Had a trial as a teenager at Manchester United but signed at Udinese after the 2001 World Youth Championships.
FORWARDS
14-Matthew Amoah (Borussia Dortmund, Germany). Born 24.10.1980. Caps: 13 Goals: 5
Restored to the team at the start of 2004 and scored vital goals as Ghana secured World Cup qualification. Debuted at the 2002 Nations Cup finals in Mali but was ignored for more than two years afterwards by a succession of Black Stars' coaches.
3-Asamoah Gyan (Modena, Italy). Born 22.11.1985. Caps: 10 Goals: 7
He scored five goals for Ghana last year and could be the young sensation of this year's World Cup despite missing the Nations Cup finals in January through injury. Aggressive striker who is on loan at Modena from Serie A club Udinese.
19-Razak Pimpong (FC Copenhagen, Denmark). Born 30.12.1982. Caps: 1 Goals: 0
Played just once for the national team in 2002 but was the star of Ghana's Olympic side that qualified for the 2004 Athens Games. Recently moved to Copenhagen after five-and-a-half seasons at FC Midtjylland.
12-Alex Tachie-Mensah (St Gallen, Switzerland). Born 15.2.1977. Caps: 4 Goals: 0
Named as a stand-by player for the 2006 African Nations Cup finals squad, having played previously for Ghana at the 2002 African Nations Cup finals in Mali. Moved to Switzerland in 2000 where his first club was Neuchatel Xamax.