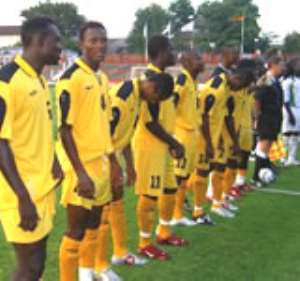 The senior national team would leave Accra tonight to begin a three-week training tour of Austria as they fine tune their preparations for the World Cup finals next month.
The Black Stars would be camped in Carinthia, a Province in Austria and shuttle between the venues for the three planned international friendly matches.
One the eve of their departure, the team met with President John Kufour at the Castle, Osu, for an official farewell.
The president declared his unflinching support for coach Ratomir Dujkovic and urged him to provide inspired guidance for the Black Stars in Germany.
"You should go believing that you are sending a top team to the competition, which happens to be the toughest and fiercest."
The charged the Black Stars to fly the flag of Ghana high in the Germany 2006 World Cup tournament by putting up a good performance.
"What should motivate you, especially the players, is that you are playing for the nation and not money. If you perform, the returns will be beyond your dreams."
The Black Stars team would travel out of Carinthia next week to take on Turkey in an international friendly to be played in the German city of Dusseldorf on May 25.
The Stars would continue their build up with the second game four days later against Jamaica's Reggae Boyz in Leicester City.
The last of the friendly fixtures pits the Stars against World Cup participants, South Korea in Edinburgh on June 4.
The team will then emplane to their Wurzburg camp in Germany, a day after the South Korean game.
Ghana open their Germany 2006 campaign against Italy's Azzurini's in Group E in Hannover on June 12.