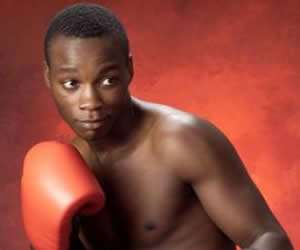 Ghana's Raymond Narh last Wednesday won an eight-round welterweight contest against Steve 'The Mongoose' Quinonez in their bout at Palm Spring, USA.
The victory, earned on a split decision, also forced the 35-year-old Quinonez into retirement after another heartbreaking loss.
"I always have found excuses to come back," said Quinonez, who hangs up his gloves with a 31-11-1 career record. "I have to face it - I have no more excuses. I have a family, a wife and four children. God's been telling me to stop and I'm going to listen to him this time."
Narh (17-1, 14 KOs) used his six inch height and six-inch reach advantages to hold off Quinonez (31-11-1, 10 KOs) and delivered enough power punches to convince two of the three judges that he won the bout.
Two judges scored the fight 79-72 and 77-74 in Narh's favour, and the third scored it 77-74 for Quinonez.
"I can't sit here and cry about it," Quinonez said. "I didn't do enough to win. Unfortunately, I don't have a knockout punch to take it out of the judges' hands".
A power puncher, Narh connected on enough hooks to control the opening two rounds. Quinonez fought back in rounds three through five by attacking Narh inside and eliminating his reach advantage.
Quinonez connected on body punches that wore Narh down until the sixth round, when Narh caught his second wind.
Narh held his own in the sixth and then connected on a straight right in the seventh that turned the tide by dropping Quinonez to one knee for a standing eight count.
Suddenly, in desperation mode, Quinonez came out in the eighth in search of a knockout or at least a knock down. He accomplished neither. He chased desperately after Narh in the closing seconds but the bell rang before he inflicted any damage.
Once the ringside announcer announced the decision, Quinonez walked out of the ring with his head held high and he exchanged pleasantries with about 50 supporters who lined up to greet him.
Tears flowed a few moments later when he announced his retirement. His father and trainer Steve Quinonez Sr. put his arm around his son's shoulder and embraced him through the announcement.
"Family comes first," the elder Quinonez said. "His children have taken a backseat for a long time. They need him. I want him to stay healthy for his family."