Children Gear Up For 2020 Accra Kiddy Mile Races On March 14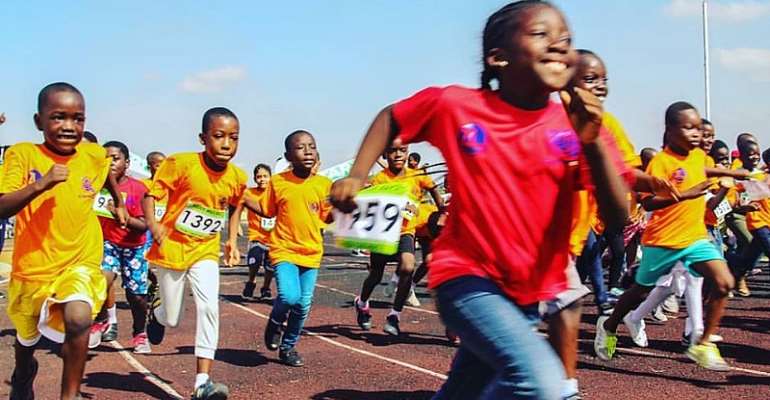 All roads lead to the El Wak Sports Stadium in Accra for the 2020 edition of the Accra Kiddy Mile Races scheduled for March 14, 2020, from 7am to 4pm.
According to the organisers, Actively Sports Events headed by Mrs Cathy Morton, about 4,000 kids from over 80 schools are coming for programme.
She said six events would be completed, including football, badminton, handball, volleyball, basketball and table tennis.
She thanked some companies whose brands have been supporting the programme like Unilever's Omo and Blue Band, BIC, Planet, McBerry Biscuits and Dano Milk.
She expressed that registration to participate is 40ghc, and comes with a t-shirt, finisher's medal and refreshments.
"There would b side attractions like the mummy and race, parents 50 meters dash, sack race, PS4 competition, bouncy castle, trampoline and mini-golf, aside from the main sports events" she explained.
Meanwhile, the Ghana Olympic Committee (GOC) who have been monitoring the Accra Kiddie Mile Races have commended Actively Sports Events and pledged to be part of the programme in this Olympic year.
Sammy Heywood Okine, a communications director of the GOC said it is good to engage kids from different homes and schools to socialize and compete for medals.
He assured that the Tokyo 2020 Committee of the GOC with Mr Mike Aggrey as chef du mission for Team Ghana would be at the El Wak Stadium to motivate the young athletes on the day.
He urged parents and schools authorities to join the fun and also promote healthy living.