Kotoko Chief Executive calls for sacrifices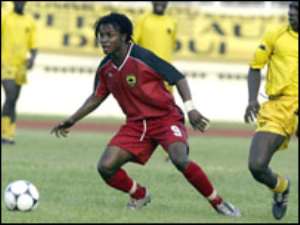 Mr Jarvis Peprah, acting Chief Executive Officer (CEO) of Kumasi Asante Kotoko Football Club has called for absolute loyalty, sacrifice and unflinching support from the playing body, supporters and past and present management of the Club. He said that it is through hard work of the executive body and various national circles that the Club has recently being chalking its chain of successes.
Mr Peprah said the Circles, which are the support-base of the Club would still have to do more to ensure further efforts of the present management of the Club to enable it achieve its set goals and objectives.
The Kotoko CEO said this when he addressed the National Circles Council Delegates' Congress of the Club in Takoradi on Saturday. He lauded the proposed stakeholders meeting that would seek to involve all stakeholders including present and past members of Kotoko management, past Circles executives, supporters, GFA, GALCA, referees, the security agencies and the media.
Mr Peprah advised the delegates to evolve means that would ensure healthy relationship with other clubs as well as members of the media to promote cordial football relations in the country. He however cautioned that even though it would be in the interest of both the media and the Club to chart a cause of mutual respect, Kotoko would not countenance the tendency of some media houses who seek to malign the team and its officials.
Referring to the media, he said "Let's give respect to each other because we will need you just as you will need Kotoko", adding that, "I will not forgo the interest of Kotoko for the press". Mr Peprah expressed his team's sincere gratitude to the management of Obuasi Ashgold for its cooperation and support during Kotoko matches at the Len Clay Stadium at Obuasi.
Mr Agyepong Asiamah, Vice Chairman of the National Circles Council who presided announced that re-registration of Kotoko supporters would soon take off as part of the club's membership drive. He said an amended constitution to replace the one that was suspended sometime ago would soon be introduced. The Congress decided that henceforth only accredited members of Kotoko would be allowed to participate in radio and television discussions on behalf of the Club.