Superstition Doesn't Play Football – Aduana Stars Coach After Kotoko Match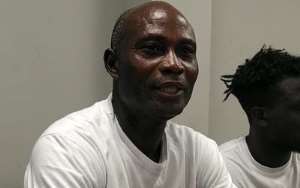 Aduana Stars head coach W.O Tandoh
Head coach for Aduana Stars, W.O Tandoh has insisted that he doesn't believe in superstition in football because it does not play football.
The defending champions of the Ghana Premier League have been ridiculed alongside Kumasi Asante Kotoko after they decided to field 10 players each instead of the usual 11 during the first half of their clast on Wednesday.
In the aftermath of the match which ended 1-0 in favour of Aduana Stars courtesy a late goal from Samuel Bioh, there have been reports that Kotoko opted to field the 10 players because of factors relating to superstition.
Giving his take on superstition after the match, W.O Tandoh stressed that it has no effect on the outcome of a football match. According to him, a football match is won by the character of players on a day and the tactics implored by a manager.
"I am a Catholic. I have always said that am a Christian. I don't believe in superstition. It doesn't play football. I thought that they fell they were stronger if they play 10 against 10. That is why I also brought one person out and we played 10 against 10", the Aduana Stars head coach said.
He added, "We had our tactics, we knew they could do all those things and we played the first half that way. There is no superstition. Please superstition doesn't play any football. It is character and what you implore on the pitch".
While there is no law that stops the two clubs from fielding the 10 players, there are calls for both Aduana Stars and Asante Kotoko to be punished for their actions.