Kotoko Put Best Foot Forward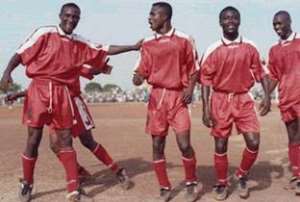 Kumasi Asante Kotoko already have a foot firmly rooted in the lucrative stage of the MTN/CAF Champions' League.
Mr Nirison Andrianjoelson, who coached Madagascan champions Uscafoot to the humiliating 6-0 defeat by Asante Kotoko, went the extra mile to tip the two times Africa champions to make a huge impact on this year's competition.
The clean-shaven coach who sat in awe as Kotoko went on the rampage in the second half described Kotoko as a great side and his comments gave an indication that his side, had already thrown in the towel.
"Ghana play good football", he said, referring to the stupendous output by Kotoko on the afternoon.
It was a momentous occasion for Kotoko at Len Clay on Sunday as acting CEO Jarvis Peprah wept for joy.
Coach Emmanuel Afranie, in characteristic style, gave a simple smile while the gallant players did a lap of honour after the match.
But the experienced Afranie who crafted that huge victory says Kotoko will not allow themselves to be deceived by any praises from their opponents.
"It is a mission we are pursuing with all the seriousness and until we grab the ultimate, that is the cup, there is no turning back", he asserted.
Jarvis said he shed tears of joy because the victory was a huge stride towards reaching the ultimate. "Ï congratulate the players and the technical team for that super victory".
Twenty-Four years down the lane (1982) the Fabulous Club achieved a similar feat in Kumasi where they humiliated Uganda champions Kampala City Council (KCC) 6-0 in an African Clubs championship game.
Afranie thinks it would be wrong for anybody to belittle the efforts of his side with the impression that the visitors were a weak side.
"The credit should go to our team that showed true character, focus and discipline", he said.
According to Afranie, he asked the players to score four goals and take advantage of any bonus that would come their way, and it was refreshing that the players responded appropriately.
Many believed that the Kotoko strikers need to be worked on if they enter the money stage considering the way they threw away begging chances.
Story by Kwame Asare Boadu