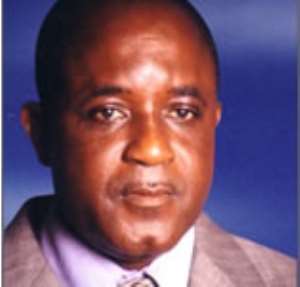 Chiefs and opinion leaders in the Nkoranza North Constituency in the Brong Ahafo region are divided over the status of their MP Eric Amoateng.
Mr. Amoateng has been absent from parliament since November last year, following his arrest in the United States for an alleged drug trafficking offence.
Enquiries within the constituency show that the differences in opinion cut across communities.
JOY FM's sister station Luv FM's Saeed Ali Yakub who just returned from a trip to the area reports that the chiefs and people of the two biggest towns are sharply divided over Mr. Amoateng's continuous absence from parliament.
Arguments have been advanced for or against the need to declare the Nkoranza North seat vacant for bye-election to be conducted following the continuing detention of MP for the area, Eric Amoateng for alleged drug trafficking in the US.
The debate is premised on the constitutional provision article 171(b) states that an MP shall vacate his seat if he absents himself without permission in writing to the speaker of Parliament for 15 sittings.
A Ghanaian Professor in the US has threatened to sue the Speaker of Parliament if he does not declare the Nkoranza North seat vacant while the opposition in Parliament favour the bye-election; the majority side is silent on the issue.
The big question is what are the people of Nkoranza themselves saying?
LUV FM established that the two main towns in the area Busunya and Yefri are opposed to each other on the issue, while many people in Busunya remain loyal to Amoateng, those in Yefri are strongly in favour of a bye election.
Though not representing the views of his people the Busunyahene Nana Okorfo Nyarko Gyabaah II is of the opinion that it will be unfair to declare the seat vacant when Amoateng has not been convicted of the drug charges.
The Yefrihene Nana Okofobuor Osei Bonsu who held a discerning position acknowledged Eric Amoateng as MP for the area if he returns anytime soon to assume his seat.
His worry however that is how long will the people of Nkoranza have to wait.
Nana Osei Bonsu has therefore believes that Parliament declare its official position on the issue.